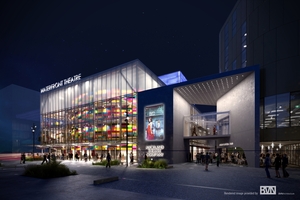 The $33.4 million cost of a building to bring theatre and dance to the Auckland waterfront is almost covered by fundraisers - lifting hopes for a start to construction early next year.
Promoters say 120,000 patrons a year will ignite the "after five" economy of the waterfront with a 600-seat theatre, with access to a 200-seat auditorium within the new ASB development.
Auckland Theatre Company said it now had $33 million in grants, pledges and money received, thanks to a $1.5 million boost by Creative New Zealand to its last year's commitment of $3 million.
Arts Council chairman Dr Dick Grant said it was unusual for Creative New Zealand to put money into buildings but it was a chance to help fill a gap in the city's arts infrastructure.
Since Creative New Zealand's original grant, the company had entered into a $5 million partnership with AUT University, which teaches performing arts subjects.
Dr Grant said the extra money from Creative New Zealand was made possible by the NZ Lottery Grants Board increasing this year's grant from $25.9 million to $31.5 million.
Auckland Theatre Company chairman Gordon Moller said the extra from Creative New Zealand meant final fundraising was in sight and it should be in a position to start construction next year.
Its target was actually $35.1 million because of the need to have working capital to open the facility and get it up and running.
However, a report to be presented to Auckland Council yesterday, said the construction cost was based on a May 2012 estimate and council staff were working to verify the figure.