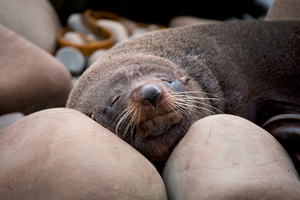 The hunt for whoever shot two New Zealand fur seals at a world-renowned colony near Kaikoura has stalled, with police and conservationists desperate for witnesses to come forward.
An adult female and a young pup were found dead with large gunshot wounds to their heads at Ohau Point, north of Kaikoura, on Saturday, in a "grotesque" act that has outraged the Department of Conservation (DoC).
The site is a mainland seal breeding colony visited by hundreds of people every day.
The bodies were found close to the parking area and lookout.
Nearby is the famous Ohau Waterfall, a "creche" for up to 60 newborn seals every year, and a major tourist attraction.
"That attraction demonstrates how popular seals are and, to me, it makes people wantonly killing seals so grotesque," DoC south Marlborough area manager David Hayes said.
The size of the gunshot wounds indicated the seals were shot by a high-powered rifle or shotgun.
Police had been informed and DoC was also hunting those responsible.
It was thought the seals were killed sometime between late Friday and noon on Saturday.
"If it wasn't in the depths of darkness then I'm hoping that someone travelling past would have seen someone with a firearm," Mr Hayes said.
"I can't comprehend what would motivate somebody to kill these animals which are so important for a whole range of reasons."
A spokesman for Kaikoura police said today the shooting is still being investigated, but admitted they're struggling for leads.
"There's not a helluva lot to go on unfortunately," he said.
"We're working closely with the Department of Conservation and are appealing for members of the public to come forward with any information that could help us with our enquiries."
Mr Hayes says they've not given up hope in finding the killers.
"It's our previous experience in situations like this that we'll be relying on somebody saying something at some time to somebody else and they'll report it. With the seal bashing two years ago that was the case."
New Zealand fur seals are a protected species and anyone caught killing or harming them can face six months in jail or a $250,000 fine.
In 2010, 23 seals were bashed to death with a metal bar at the same location.
Renwick man Jason Godsiff was convicted for killing the mammals and initially sentenced to two years' imprisonment.
However, this was reduced to eight months' home detention on appeal.
Also in July 2010, Hayden John Ingram, of Kaikoura, was fined $500 and sentenced to 200 hours' community work for shooting a seal with a paintball gun, bashing it with a metal bar and running over a seal pup, killing both.
In 2008, Harley McKenzie was jailed for four months for his role in an attack on a leopard seal in which fist-sized stones were thrown at the seal and it was dragged around a beach by its tail.
In 2005, All Black Andrew Hore and friends Hamish Wilson and Matthew O'Connell were each fined $2500 after they shot at seals, killing one, on the Otago coast.
Anyone with information about the latest killings were urged to contact the DoC on (03) 572-9100 or Kaikoura police on (03) 319 5038.
- APNZ