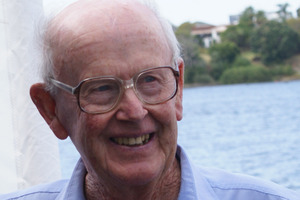 A former Olympic sailor who flew a high-performance microlight into the side of a mountain died while flying in thick cloud, in contravention of visual flight rules.
Geoff Smale, 86, was relying on incorrect electronic flight data, which told him he was flying 400m above ground, when he was in fact approaching rising terrain 200m below Mt Duppa, in the Nelson region.
Terrain data used by that system has since been corrected and the dangers of relying on such a navigational aid have been highlighted by the CAA, a coroner's finding into Mr Smale's death on April 9, 2011 reveals.
Mr Smale, who represented New Zealand racing a Flying Dutchman yacht at the 1968 Mexico Olympics, was flying from his home in Auckland to see friend Michael Leefe in Ashburton.
Having learned to fly in 2008, he was solo flying his Dyn'Aero club microlight, which has a cruise speed of 120 knots and a range of 7 to 8 hours, to Ashburton from North Shore Aerodrome for the first time.
At his inquest in May, Coroner Carla na Nagara heard that Mr Smale had checked the weather at 7.50am before making his pre-flight preparations and setting off at around 11am.
When he had failed to arrive in Ashburton as planned at 3pm, Mr Leefe contacted the Rescue Coordination Centre of New Zealand (RCCNZ) and a search operation was launched.
His body and disintegrated microlight wreckage were found two days later on the northern side of Mt Duppa, northeast of Nelson.
A post mortem examination confirmed the cause of death was "very high energy impact injuries" to his head, spine, chest, abdominal organs and limbs.
The Civil Aviation Authority (CAA) launched a probe and investigator Colin Grounsell found that Mr Smale was breaking visual aviation flight rules by flying in thick cloud. He should have had clear vision for 5km.
But Coroner na Nagara noted that the "disconcerting aspect of this case" was a data shortcoming in the MGL Avionics electronic flight information system (EFIS) which the pilot was relying on to tell him how high he was flying.
"While it is reasonable to expect that Mr Smale had a high level of faith in the accuracy of the information presented to him on his EFIS unit, the concern is that he had an over-reliance on this information instead of using his basic navigational skills, and applying the visual flight rules meteorological minima for flight as he was legally required to do," the coroner ruled.
Several steps have been taken to improve safety in light of the case, with errors in the National Aeronautics and Space Administration (Nasa) terrain data for New Zealand used by the MGL Avionics EFIS system having been corrected, and users supplied with a corrected terrain database.
The dangers of over-reliance on EFIS systems have been highlighted in articles by the CAA.
- APNZ