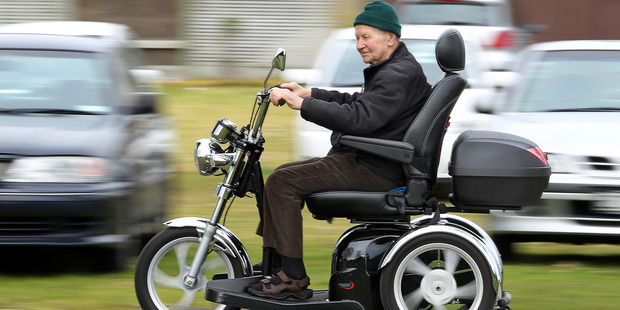 Stories making headlines around the regions today include a three-year-old boy who wanted his dad so went for a 7km trek to find him, and an armed and dangerous man who could be hiding in Hawke's Bay.
A three-year-old boy went for a wander yesterday morning to find his dad, some 7km away.
An armed and dangerous man may be hiding in the Hawke's Bay.
It may only have a top speed of 17km/h, but 91-year-old Arnold Robinson thinks his Harley- Davidson-style mobility scooter is ahead of the pack.
Gabriel the train is getting a check-up and will be out of service for several weeks.
An 18-year-old who stole $90 worth of newspapers claimed he did so to keep a homeless person warm.
A "perfect little mince and cheese pie" has taken out the Supreme Pie award.
On Monday, Rotorua locals will be treated to free Bacon and Egg McMuffins.
Russell's Birdman Festival pumped as much business into the town as a busy summer weekend.
The claws are out for cats in Rangitikei. A proposed bylaw will outlaw having more than three cats per household.
Mystery surrounds the cracking of tiles on the floor of a Far North service station.
Ahuriri's West Quay seafront has become an unofficial dumping ground, say locals.
Lower Rattray St was an important part of Dunedin's history but, after years of neglect, it is being compared with earthquake-hit Christchurch.
And finally, Emily Jo Richardson of Carterton and Eva Collins of Wanganui will share the same birthdate as the Prince of Cambridge. Royalists in Rotorua are thrilled with the birth.
Other stories making headlines around the regions include:
Crash injures five, teen in serious condition.
Fish and game boss fined $300.
Police check dog fight reports.
Tangi set for fisherman drowned while setting nets.
Life at court comes to an end.
Northlander coping in the shaky capital.
Ewan McDonald: Irony of the BMX World Champs.
Health worker attacked by dogs in Northland.