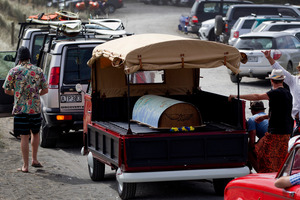 The death of Adam Strange who was killed in a shark attack at Muriwai beach earlier this year could not have been prevented, a coroner has ruled.
The father of one had been swimming 200m offshore when a 3-4 m shark attacked him in the water on February 27.
Surfer friends, lifesavers and police tried to save the 47-year-old from the attack, but he died of "exsanguination from multiple injuries caused by shark bites", Coroner Morag McDowell concluded in findings released today.
"I conclude that his death was a tragic accident, resulting from the very rare occurrence of shark attack," she said.
"Given the rarity of this type of incident, no realistic preventative measures are either identifiable, or called for."
Mr Strange was attacked about 1.25pm as he swam in training for an upcoming race.
He'd been spotted about 25 minutes earlier by a fisherman on rocks halfway between Maori Bay and Muriwai Beach.
Mr Strange, a popular local figure in the surfing community, came ashore at Muriwai beach and spoke to two mates who were surfing there.
He mentioned that he was in training, and one of his friends commented that he seemed really happy to be in the water.
After a few minutes, he returned back into the sea swimming in the direction of Maori Bay.
The fisherman who had earlier seen Mr Strange saw him again on the return leg.
He observed that Mr Strange was being followed by a lot of birds flying above him, and the fisherman also observed schools of small fish around him.
"After about two minutes the fisherman heard a lot of splashing coming from the water and heard Mr Strange calling for help,'' Coroner McDowell states.
"He could see a lot of blood in the water and a shark splashing around.
"The fisherman further describes seeing more than one shark attacking Mr Strange who after a short time appeared limp and face down.''
The fisherman then called emergency services.
One of Mr Strange's friends surfing at Muriwai also saw the attack, seeing "a number of fins and blood'' in the water.
Surf lifesavers on duty rushed to the scene by boat.
They found Mr Strange and a single, large 3-4m shark - believed to have been a white pointer shark - had hold of him.
Using their boat and oars, they managed to get the shark to release Mr Strange, who appeared lifeless, and was face down with "obvious injuries''.
When police arrived in a second inflatable boat, the shark continued to try to get at Mr Strange, and an armed officer fired shots at it.
It eventually rolled away and sank below the surface.
Tim Jago of the Muriwai Volunteer Lifeguard Service said soon after the attack that a review of video footage by emergency services gave him confidence the shark had been killed by the gunfire.
Mr Strange's body was recovered soon after and Muriwai beach was closed for three days after the attack.
On February 28, a full post mortem examination was undertaken by forensic pathologist Dr Joanna Glengarry who ascertained that Mr Strange had died from exsanguination, or rapid large volume blood loss, secondary to multiple injuries caused by shark bites.
There were findings also consistent with drowning.
Mr Strange is survived by his wife Meg and their daughter, Indigo.
Surf Life Saving New Zealand (SLSNZ) provided a report for the coroner's inquiry, saying there had not been a recorded shark attack in the waters off the west coast of Auckland in the past 30 years.
The group did not think any preventative measures could be taken to prevent any future incidents.
They said shark nets at Muriwai would be ineffective, given the beach is 46km long and finishes at the entrance to Kaipara Harbour, one of the largest in the world and a known breeding ground for sharks.
Since the attack, SLSNZ has spoken to colleagues in Australia and the US and developed protocols with Auckland Council and police for the management of any future, similar events.
- APNZ