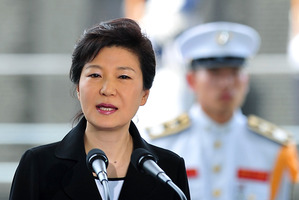 Korean war commemorations, free trade talks with the President, a serving or two of spicy pickled cabbage and maybe even a round of golf with one of Korea's most powerful businessmen are on the menu as Prime Minister John Key visits South Korea this week.
Mr Key arrives in capital Seoul tomorrow where, along with a group of 34 of New Zealand's Korean War veterans, he will attend commemorations marking armistice that ended large-scale hostilities on the peninsula 60 years ago.
Now mostly in their eighties, the veterans are "representatives of the 6000 strong force that went to Korea and risked their lives for a country they had no connection with" Mr Key said.
Mr Key pointed out the New Zealand contingent of a UN force that came to South Korea's aid in 1950 was the third largest by total and the largest on a per capita basis.
Forty-five New Zealanders died in the war with North Korean and Chinese forces, which is technically still going despite the 1953 armistice.
"It's time for us to reflect back on the contribution we made to what is now a very powerful economy."
Mr Key is no doubt hoping new South Korean President Park Geun-hye is mindful of that contribution when he meets her at Korean presidential palace the Blue House on Friday.
New Zealand and Korea - our fifth largest trade partner began free trade talks in 2009 but those discussions have been held up for a couple of years due by lobbying from Korea's powerful agricultural sector particularly on fears New Zealand beef imports will disadvantage local producers.
"We're effectively going backwards in Korea because they have signed free trade agreements with both the United States and with Europe so that puts our exporters at a real competitive disadvantage and its actually crucially important that we negotiate an FTA."
President Park, who was elected late last year has indicated a fresh approach to issues of free trade.
"I don't think there's any doubt she is supportive of what we are trying to achieve but it's politically charged and it was essentially domestic politics that sidelined further progress in recent years," Mr Key said.
"That's one of the reasons why it's really important to put the ball back in the court early on in her presidency because in the end that agricultural lobby is very strong. I don't think there's a lot of merit in their arguments we're not a threat to Korean agricultural sector but nevertheless for a whole bunch of reasons they're likely to make some noise about it."
Mr Key will also be pushing New Zealand as a good place for Korean companies to do business and as a tourist destination, particularly for golfers during his visit to a country where the sport is wildly popular.
He will meet with President of Samsung Electronics JK Shin, who he partnered at the PGA golf tournament earlier this year in Queenstown. That visit helped yield a deal with Samsung for Auckland company Booktrack, and apart from New Zealand's traditional agricultural exports, Mr Key sees high end niche products like Booktrack as area of growth in trade with South Korea.
His schedule allowing, he hopes to play a round of golf with Mr Shin.
The other greens he will no doubt get a chance to enjoy during his visit is Korea's famed taste explosion Kimchi.
Mr Key says he got a taste for the fiery, pungent pickled cabbage dish while living in Singapore.
"I love the stuff."
Korean New Zealand MP Melissa Lee who is accompanying Mr Key, the veterans and Veterans Affairs Minister Michael Woodhouse on this week's trip makes up a batch for the Prime Minister from time to time he says.
"It's great with a beef dish", he says, a point he may make when he meets President Park this week.