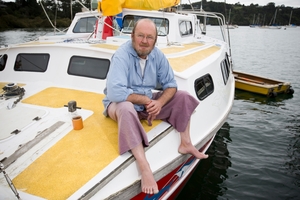 Sailor Pete Shierny is fighting for boaties' rights in Auckland Council-owned areas after a hostile "get out" message from Westhaven Marina.
A sailor for 40 years, Mr Shierny said he believed access to the CBD stretch of Waitemata Harbour was becoming locked up to all but big fee-paying boat owners.
He was sailing his catamaran from Colville on the Coromandel Peninsula bound for the Herald Island wharf.
"When I got to Auckland about 2am I was very tired and also had an easterly wind with the tide against me. As I considered it dangerous and foolhardy to continue, I did the prudent thing and turned to port and mindfully dropped my anchor in the bay by the public launching ramps and Z pier. At 8am, a marina security guard told me it was illegal for me to be there. I asked him where I could go, he said, 'Get out, it's not our problem'. So, I made a cuppa and left."
Two days later, Mr Shierny returned in his colourful catamaran Putangitangi.
"Security arrived in a rubber boat and told me this was not a public place and I had to leave. I said this had always been a public place, and security called up a woman from marina management who threatened me with a trespass order."
Mr Shierny, who is based on Waiheke Island but works as a fitter on coalmine maintenance shutdowns, said he felt the need to make a stand for public boaties.
Auckland Council member Mike Lee said he would take up the issue with Waterfront Auckland.
"Most people assume that Westhaven is publicly owned - the Government and the ratepayers paid for it - yet officials and security people are acting as if the harbour has been privatised."
Waterfront Auckland marinas general manager Tom Warren said marina staff were right to monitor the situation and act accordingly - for security purposes and to be fair to fee-paying berth holders.
"If there is a real need to visit and skippers identify themselves on the entry to the marina and make clear the purpose, we are more than happy to try to accommodate their needs."