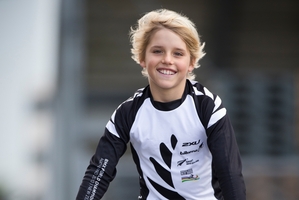 At just 10 years old Rico Bearman is chasing his fourth UCI BMX world title in Auckland today.
The year five Oteha Valley School student will line up against riders his age from around the world at Vector Arena, when the championships kick off with the 10-14 years challenge classes.
Having been competing internationally since he was 6 Rico is already considered a seasoned rider, with his talent attracting the attention of Redman Bikes, who selected the youngster in their Factory Tribe. Redman kits Rico out with bike frames and clothing in what looks likely to be the first of many endorsement deals for the determined Auckland rider.
BMX has taken Rico around the world, including South Africa, Europe and the US. He won his first world title in the 5/6 age-group in Australia, before collecting his second world championship gold in South Africa the following year. After picking up bronze in Denmark in 2011, Rico won his third world title in the 9-year-old division in Birmingham last year.
While he would have quite liked another stamp in his passport. "I really like getting to travel," he said. Rico is excited about the opportunity to compete on home soil in front of his friends and family. His team mates from the Forest Hill Milford soccer club will be in the crowd at Vector Arena today to cheer him on.
It adds a lot of extra pressure on the 10-year-old, but his mum Deane Bearman said he seems to be taken it all in his stride.
"He's definitely nervous about it, there's been a lot of extra attention on him this week but he is coping with it really well," said Mrs Bearman.
Rico was just 4 when he took up BMX after going along to the local track to watch a family friend competing. He wanted to have a go himself, and was immediately hooked. By 5 he was already a national champion, and at 6, a world champion.
What started out as a fun pursuit has become a consuming sport for the entire family. Rico has just returned from a month-long trip to the US with his father, Gordon, a former pro road cyclist, where he was exposed to intense competition every weekend.
In true American style, Rico returned home with some super-sized trophies, including an impressive haul from the US nationals in Las Vegas.
Mrs Bearman said while it was a massive financial commitment to travel overseas to compete, it was a big opportunity for her son, who is determined to compete at an Olympic Games.
"It was a big call to one, pull him out of school, and two, do all that travel, but you just don't get that competition anywhere else," said Mrs Bearman.
"It is an expensive sport ... Every race, every event costs money. But we see it as something we can do as a family as well."
Rico's older sister Mikayla will also be competing today in the 11-year age group.
UCI BMX World Champs
Today until Sunday at Vector Arena, Auckland
About the event:
* 28,000 spectators.
* 1830 age group competitors.
* 2000 of the world's best BMX riders.
* Visit bmxworldnewzealand.com