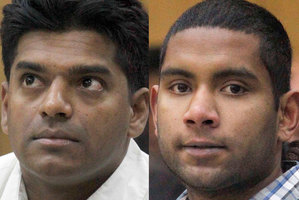 Two men have been found guilty of the murder of Oxford dairy worker Sameera Battelage.
A jury in the High Court at Christchurch returned the guilty verdicts for co-accused Thuvan Prawesh Sawal, 24, and Viraj Alahakoon, 35, this afternoon.
Sawal and Alahakoon had been on trial for the past three weeks charged with the murder of dairy worker Sameera Chandrasena Battelage
The jury began its deliberations this morning after the case wrapped up on Friday and came back with guilty verdicts just before 2.30pm, Newstalk ZB reported.
Alahakoon was found guilty of murder, two counts of assault, and arson. Sawal was found guilty of murder and arson.
The family of Mr Battelage cried as the verdicts were read out while the two men showed little emotion.
They will be sentenced on September 6.
Mr Battelage's badly charred body was found in his burning farmhouse on Domain Rd, just outside Oxford in North Canterbury, on February 23 last year.
Alahakoon and Sawal were soon arrested and charged with murder and arson.
Sawal and Alahakoon had blamed each other for cutting the throat of their friend who had been having an affair with a woman they knew.
Sawal claimed he witnessed Alahakoon cut the throat of Mr Battelage "like a sheep" as he slept, in a murderous, jealous rage after learning of the affair.
But Alahakoon's story was that Sawal woke him shouting, holding a blood-soaked knife, with Mr Battelage lying dead on the couch.
The Crown said both men had plotted to kill the farmer in revenge for the affair.
The Crown summed up its case earlier last week, saying the accused helped each other stab or cut Mr Battelage's neck six times before dousing his body in petrol and setting it alight.
The court was told Mr Battelage was surprised when the pair showed up at his rented rural property on the evening of February 22, last year.
Alahakoon, who'd just been laid off as a jeweller, and Sawal, who was an overstayer with a warrant out to send him back to his native Sri Lanka, say they wanted to confront him over the affair.
Alahakoon had also been charged with assaulting a woman, who has name suppression, with a pair of scissors on December 5, 2011, and again on Boxing Day that year.
- additional reporting by Newstalk ZB
- APNZ