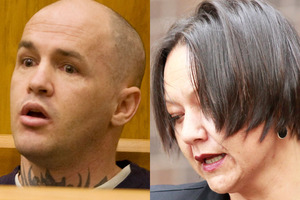 Lawyer Davina Murray has lodged a fresh application to have Crown evidence about her relationship with convicted murderer and rapist Liam Reid struck out.
During her trial for smuggling contraband to Reid in prison, Murray told Auckland District Court this morning that a search warrant for her phone and text messages was unlawful.
The Crown says the text messages reveal Murray was more than a lawyer to Reid - they were having a relationship and text messages show Murray planned to secretly marry him inside prison.
In one of the messages, Murray asked a friend in Australia to come to New Zealand.
" ... Need to smuggle in 2 witnesses into jail as my staff to witness my wedding. When he gets out we will do the big la-la."
Murray discussed wedding vows with the friend and said the secret marriage could jeopardise Reid's appeal.
"My heart says: 'I should just do it' but my head says: 'Wait'."
Judge Russell Collins said he would hear more submissions once Reid has finished giving evidence this morning.
Murray is defending herself against a charge of smuggling an iPhone, cigarettes and a lighter to Reid in Mt Eden Prison on October 7, 2011.
On Friday, she made a series of applications for the charge to be dismissed after the Crown had concluded its case.
She blamed the police and even the judge for failing to give her a fair trial.
Judge Russell Collins stopped her at one point and said: "You're wasting time. This is a meaningless drivelling submission that is designed to timewaste and get to an adjournment."
Reid is serving a 23-year sentence for the 2007 rape and murder of deaf woman Emma Agnew and the rape, attempted murder and robbery of a 21-year-old student in Dunedin nine days later.
He accused prison guards of planting the iPhone on him.
- APNZ