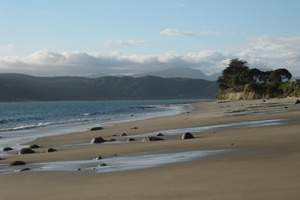 Family of a Hokianga man missing for almost two weeks hope a body found in Hokianga Harbour yesterday is that of Darrell "Deli" Hamilton-Singh.
Mr Hamilton-Singh, 46, has not been seen since he went to set a net on a tidal flat at Motukauri, on the northern side of Hokianga Harbour, west of Kohukohu, about 3am on July 9.
An extensive search on Friday using a plane, helicopter, coastguard vessels, kayaks, private boats and almost 100 searchers failed to find any sign of the missing man.
However, a man's body was found in the harbour near Opononi about 3pm yesterday.
Whangarei police Search and Rescue group spokesman Neil Pennington said the body was found by a couple walking on a beach at the end of Brindle Rd, on the southern side of Hokianga Harbour.
"A couple from Cabbage Tree Bay Rd went for a walk and found him.
"Where he was found is almost directly south, on the other side of the harbour, from where [Mr Hamilton-Singh] went into the water," Mr Pennington said.
He said tests would be carried out to confirm the identity of the body, but he said the man had clothing matching almost exactly what Mr Hamilton-Singh was reported to have been wearing when he disappeared. Mr Hamilton- Singh's partner told the Northern Advocate she hoped the body was her partner's so the family could start grieving properly.
She said the family was grateful for all the support and help from people, particularly during the many searches for her partner.
The woman said it had been exhausting work for all concerned and she would be pleased and relieved if her partner was finally found.
The family was thankful that a body had been found before forecast foul weather on Tuesday as that would have hampered any further search efforts.
Once Mr Hamilton-Singh's identity is confirmed planning for his tangi will begin.
Mr Hamilton-Singh had set the net in the same area hundreds of times previously.
A rahui has been placed on the area stretching from Rangi Pt to Motukaraka.
Mr Pennington said Friday's big search was one of the most comprehensive imaginable, with a huge part of the Hokianga Harbour covered.
Search and Rescue staff from Whangarei and the Far North had joined more than 60 family members and locals, along with numerous boats and a plane, while the family also hired a helicopter to search the hundreds of hectares of mangrove swamps in the harbour.
For more articles from this region, go to Northern Advocate