Damage could have been worse but chance remains of bigger shake, scientist says.
Much of Wellington's CBD will be off limits this morning as streets and buildings remain closed following yesterday's big quakes and aftershocks.
Some streets have been closed, businesses have advised they will be too while inspections take place, and train commuters have been left to make their own arrangements to get to work.
---
Did you feel the quake? Send your story, photos or video here.
---
Wellington Region Civil Defence Controller Bruce Pepperell said there were a number of buildings in the CBD with damaged and potentially dangerous facades and there was probably damage to other buildings and infrastructure that had not been discovered yesterday evening.
"If at all possible, people should stay home - and contact their managers and employers first thing ... to get advice.
"We need to give building owners, building managers, tenants and engineers time to do checks on buildings to look for damage and make sure they are safe,'' he said.
It was likely there would still be some parts of the CBD cordoned off so in some cases, people might not be able to get access to their workplaces.
Police last night closed sections of Featherston Street, Wakefield Street and Bolton Street in the CBD, along with Willis and Webb streets, upper Victoria Street Thomson and Nairn streets around the damaged Mercure hotel.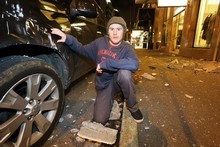 Motorists from Brooklyn were advised to take alternative routes.
Wellington City Council's Civic Square office buildings would be closed to all but essential staff tomorrow while checks on the building's services were carried out.
Council staff were advised to work from home.
KiwiRail said all Wellington commuter lines were closed, with no peak train services or bus replacements.
Tranz Metro passengers were advised to make alternative travel arrangements.
Tranz Metro train services were suspended immediately following the magnitude 6.5 earthquake which struck in the Cook Strait at 5.09pm yesterday.
The quake followed a magnitude-5.8 quake at 7.17am in the same place.
Cursory track inspections had been undertaken across all four lines (Wairarapa, Kapiti, Hutt Valley and Johnsonville) to check for damage to the rail but KiwiRail would carry out another inspection this morning to ensure that there was no damage to the tracks, bridges and tunnels that may not have been identified in the dark yesterday.
"While there have been no immediate reports of damage following tonight's cursory inspections, we want to take every precaution to ensure that there has been no impairment to our tracks,'' said KiwiRail's passenger general manager Deborah Hume.
"Despite efforts from Tranz Metro staff, we have been unable to source buses for tomorrow morning's peak at such short notice,'' she said.
Department of Internal Affairs (all buildings)
Ministry of Social Development (head office only)
New Zealand Institute of Chartered Accountants, Customhouse Quay
Radio New Zealand
Telecom Central
PriceWaterhouseCooper on The Terrace
ACC head office
Statistics House
New Zealand Post House Waterloo Quay
Victoria University
Massey University, Wellington campus
National Library
ANZ bank branches
ANZ call centre on Cambride Tce
Westpac bank branches
NZ Fashion Tech campus
Vodafone at Lambton House
Defence House
Mayfair House
Tel Tower
Justice Centre (previously Vogel Centre)
Yoobee School of Design (previously Natcoll Design Technology)
Wellington Railway Station