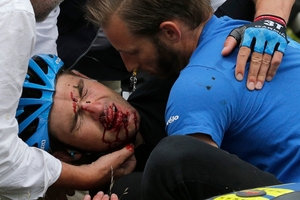 The parents of injured Tour de France cyclist Jack Bauer watched with horror as their son crashed on live television, and were forced to wait for news of his condition.
Bauer fell head-first into a barbed wire fence yesterday as his parents watched a live broadcast from their home in Parapara, west of Nelson.
"We saw it all happen live but had to wait for more than an hour to hear anything - it was awful," Carolyn Bauer said yesterday.
Jack was thankful his injuries were not worse, Carolyn said.
"The impact was very bad so he is lucky his teeth weren't knocked out, he is very happy of that.
"He is very disappointed because he has put so much into the race and won't be finishing."
The 27-year-old cyclist for Team Garmin-Sharp went off the narrow road on the descent of the Col du Glandon on stage 19 of the race.
Team physician Kevin Sprouse said: "Jack has eight stitches across his upper lip, two on his forehead and one on his chin."