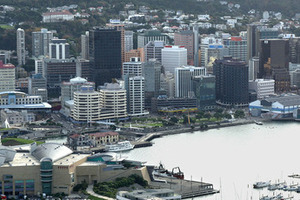 Wellington was shaken by more aftershocks overnight following a "severe" magnitude 5.7 earthquake that rocked the capital and the upper South Island yesterday.
People screamed and dived under desks when the first quake hit at 9.06am yesterday, causing multi-storey office buildings in the central city to sway for at least 30 seconds.
GeoNet said the earthquake struck 30km east of Seddon, in Marlborough, at a depth of 8km.
It was followed by a flurry of smaller aftershocks, with more than 20 in the five hours after the quake.
The biggest aftershock overnight, a magnitude 3.4 tremor, struck at 11pm.
GeoNet said the 20km deep quake struck in the same location as the initial quake. It was reportedly felt in the upper South Island and the Hutt Valley.
Other aftershocks were described by GeoNet as "unnoticeable".
GNS Science seismologist Anna Kaiser said increased seismic activity was excepted in the region in the next few days.
"They will taper off over the next few days - there will be much fewer than there have been today. We always get a level of background activity in this area anyway, so we do expect small quakes for a while."
More than 6000 people had reported feeling the main earthquake, from as far north as New Plymouth to Canterbury in the south.
Earthquakes also struck overnight on the East Cape of the North Island and in the Tasman region.
GeoNet said a magnitude 4.5 quake struck 15km southeast of the East Cape town of Te Araroa at 11.42pm.
The 57km deep quake was described as light in intensity.
Fifteen minutes later, a 3.7 magnitude quake struck 30km west of Murchison in the Tasman region.
GeoNet described the 12km deep quake as moderate.
- APNZ