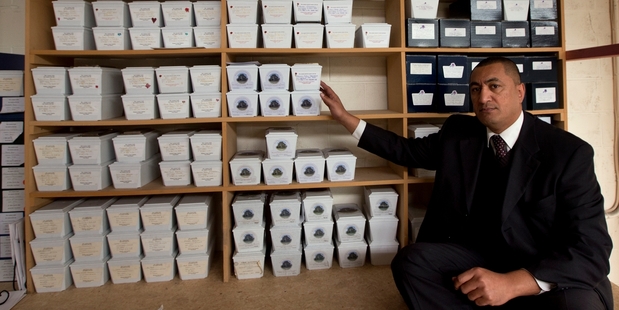 Funeral homes continue to house the remains of hundreds of people who have been unclaimed by relatives and dubbed by one undertaker as "the forgotten society".
A survey of some of Auckland's best-known funeral homes found they had been storing the ashes of dozens and, in some cases, hundreds of people for years.
One business operating in West Auckland reported having hundreds of urns in storage - some more than 80 years old.
"We've got some dating back to the 1930s," said the owner, who did not want to be named.
"We do tell people that we hold them only for a set number of months, but we don't act on it. We feel a bit heartless so we just hold on to them."
The director of Greyson Funeral Services, Nick Bakulich, said his business - which trades under J Weir Funeral Services - stored more than 160 unclaimed urns.
At the funeral home, in Onehunga, a long and steep staircase leads to a wall of shelves stacked with small white boxes.
Each bears an inscription - name, date of birth and death and where the person was cremated.
The oldest box is from the 1960s and 28 of the urns belong to children; most of them babies.
Mr Bakulich said a handful of urns were there because families had asked that they be stored there, but the majority belonged to people who had died alone and had no one to claim their remains.
Holding an urn in his hands and looking at the shelves, he said: "It's sad to think that this person has contributed ... and yet they've been forgotten - it's the forgotten society."
There were other aspects at play, too, Mr Bakulich said, such as a family who could not afford a proper funeral for a loved one or more sensitive issues surrounding the deaths of children.
"Sometimes parents just want to forget about it. It's too hard to face. Other times, in the case of a stillborn, other parts of a family may have not known about that child so the parents just leave it at that."
In other cases, family rifts had got in the way and the urns were effectively abandoned.
Davis Funerals operations manager Bob Russell said the firm had close to 200 urns in storage. In the past, the high number of urns meant the firm had been forced to make its own arrangements.
Mr Russell said the business had installed a memorial seat at Purewa Cemetery & Crematorium, where unclaimed ashes were scattered.
"We've been in business since 1950 and we've had numerous ashes since then. Those [families] who didn't contact us back, for the 10 years that we had ashes, we put them all in one grave under a memorial seat at Purewa.
"Obviously we know who's there ... We do that from time to time because the ashes build up."
Mr Russell said they tried hard to get in touch with families, but a lot of the time many had moved on.
Dil's Funeral business on the North Shore had about 100 unclaimed urns, but the majority had arrangements set out for them.
Manager Wade Downey said sometimes a family would forget about ashes, believing another member had taken care of them.
In other cases, families requested that Dil's hold on to a loved one's ashes so they could be laid with another family member.
The Funeral Directors Association does not keep statistics of the number of ashes left at funeral homes around the country.
President Eion McKinnon said: "It's just a part of our industry and this has been an ongoing situation."