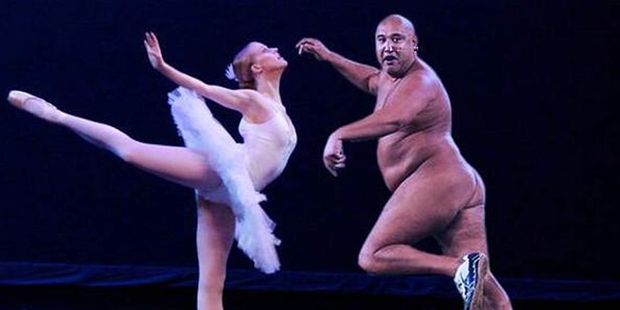 There's no mistaking Wati Holmwood in the flesh - but impersonators of the serial streaker have given Radio Live host Duncan Garner the slip.
Garner apparently interviewed the 33-year-old New Zealander, who ran almost the length of the field naked during this week's State of Origin decider, on RadioLive on Thursday afternoon.
However, three Sydney brothers have since told the Sydney Morning Herald they fooled media after setting up a Facebook page for Holmwood and then responding to interview requests.
Moe, Mouss and Ali Mourad told the newspaper they were the "kings of trolling".
In the Garner interview, the person purporting to be Holmwood said the streak was to "spice up" what had been a boring game between Queensland and New South Wales.
He asked listeners to help pay a $11,000 fine, saying, "[it was] a bit of entertainment for the people, for the Australian people, the New Zealand people, for the people around the world, for the people of England".
Comments that he was not sorry for the streak and was planning a repeat performance at the 2014 Football World Cup in Brazil were at odds with statements by the real Holmwood as he left the stadium.
"I'm sorry, I apologise about what happened, am I in trouble now?" he asked a Daily Telegraph reporter.
"It all happened so quickly, I don't know what was going through my head. I just wanted to make it interesting but I stuffed up Origin. A lot of people hate me now."
Yesterday, a MediaWorks spokeswoman said that "like many news outlets throughout New Zealand and Australia", the station had initially been hoaxed.
"As soon as we realised the error, it was corrected on air."