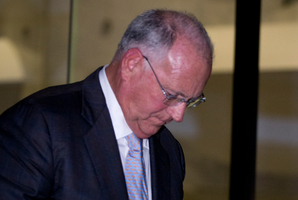 A man who claims his golf buddy lawyer more than doubled his bill for help resolving a leaky homes dispute says his memory of what happened was clouded by 54 bouts of chemotherapy.
Eion Castles is before the Lawyers and Conveyancers Disciplinary Tribunal accused of charging the man - who has name suppression - $1,030,000, well above the $436,000 assessors estimated his work would have cost.
At the second day of the hearing at Auckland District Court today, the complainant took the stand to tell of the unquestioning faith he and his wife had in Mr Castles when they hired him, to sue their previous lawyer.
"We trusted Mr Castles implicitly. As a friend and golfing partner to do the best he could for us.
"We placed ourselves entirely in [his] hands.''
Under cross-examination, however, the complainant was able to give very few details about what happened from when he hired Mr Castles in 2003 until he laid the complaint against him Mr Castles in 2009.
He cited ongoing cancer treatment for the lapse.
"After four years of operations and 54 continuous bouts of chemo, I've suffered some memory difficulties.''
At the time of the complaint he had also started to "self medicate'' for depression with his wife's anti-depressant pills, before seeing a doctor for his own prescription.
Brian Keene, QC, acting for Mr Castles, said the complainant showed a "fairly vague'' recollection of what happened.
Mr Keene said the complainant was warned what Mr Castles' fees would be, but suggested the anti-depressant medication he was taking at the time could have compromised his memory.
The complainant also admitted he did not read all the accounts and documents given to him by Mr Castles, and did not understand all the terminology.
He couldn't say "with certainty'' that he and his wife knew what they were being charged for, but they never contested any fees.
"We went to Mr Castles expecting this to be resolved. Not to be left destitute.''
The hearing is set to resume next month.
- APNZ