Auckland Council is considering a bylaw which would ban begging, a move welcomed by shop owners but opposed by defenders of the homeless. But what is it like on the street, whipped by the wind and spending hours on the footpath beside a cardboard begging bowl? Steve Deane finds out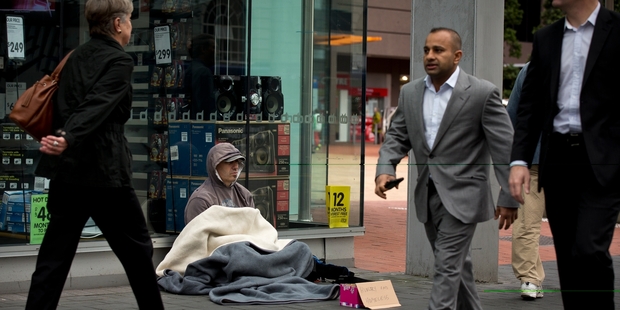 We don't really see the street. Most of us don't even look. Kids look, as I'm about to find out, but we adults, most of us walk on by, our attention fixed on anything other than that dude over there huddled under the blanket, with the crumpled cardboard box and a sign imploring us to show a little compassion.
Today, that dude is me. And I've been watching you. Closely.
Operation Beggar starts when I walk past the $20,000 boat sitting on my lawn and decide that rubbing some of the mud surrounding its tyres into my clothing will help complete my destitute look. The irony of this is not lost on me. I'm wearing khaki pants, an old, torn hoodie, a faded cap and, now, designer mud splashes. I've got a soiled blanket, a cushion and a cardboard box that used to contain a My Little Pony jewellery box, stuffed into a old backpack.
In the Herald newsroom I scribble "Hungry and Homeless" on the side of the box, and I'm ready to hit the street.
I don't get 10 metres from the back entrance on to Mills Lane before I run into my first "fellow" street person. A oldish guy, he's smoking, drinking a coloured fluid from a plastic bottle, and shaking uncontrollably. I realise I've walked past this guy nearly every day without ever really seeing him.
Today, though, my eyes are open. Today I'm seeing the street. Smelling it, too. It's not even 10am, but powerful fried food odours waft down Queen St.
Gospel music also floats down the street. It's coming from a Pacific Island family who are, quite literally, singing for their supper. Dad plays the guitar while four kids, the oldest of whom might be 12, sing lustily. About 50m further up the road two Maori guys with dreadlocks lounge on a bench. They give me a long, hard look as I shuffle by. Above Victoria St, five more street people occupy the opposite pavement. One of them, a young European, is keeping pace with me as we amble up Queen St. He's smoking, limping and playing with his ear. He walks past a brown-skinned couple. The woman sits on a bench next to a guitar. The man is face down on the concrete, unconscious.
I had planned to start begging up near Aotea Square and work my way down Queen St, but this area is already heavily populated. No one is begging, but the last thing I want to do is start a turf war on my first day in a new job.
The Maori guys have crossed the road and keep pace with me as I wander back towards Britomart. They sway a fair bit, which could be related to whatever is in a plastic bag one of them clutches tightly.
Outside the Glass Box Bar opposite the Ferry Building, an old guy with a dirty, unkempt beard empties the ashtrays into a plastic bag. I'm reminded of a scene from the movie Bruno, where Sacha Baron Cohen describes Osama bin Laden as "some kind of dirty wizard or homeless Santa".
The British comic is a master of turning a mirror on to society for awkward laughs, but there's nothing funny about what I've witnessed this morning.
I set up camp outside Dick Smith, huddling under my blanket. I choose the spot mainly because I'm interested to see if I'll attract the interest of the authorities. A forthcoming council bylaw will ban beggars from using "a public place to beg in a manner that may intimidate or cause a nuisance to any person".
According to councillor Mike Lee, that won't represent a total ban on begging.
I guess we'll see.
I stare straight ahead, anxious not to intimidate with direct eye contact. But I soon realise the chances of that are minimal. Most people take a brief sideways glance in my direction. The only ones who really look at me are kids. It's school holidays, meaning a day out in the big smoke for host of suburban nippers. They read my sign and point before being tugged out of harm's way by alarmed or ambivalent mothers.
It seems an age, but it's only 20 minutes until I'm approached by a nice-looking lady in her 40s who hands me two boiled sweets.
Oh well, at least I'm not going to get rolled for my cash. It's shaping as a long, hungry day.
Four minutes later the first coins land in my box courtesy of a stooped, elderly lady. They add up to $1.10, and I'm genuinely touched.
The next contributor is a Polynesian guy in his 20s who gives me 50c. I'm on a roll, but I can no longer feel my feet, which have gone to sleep on me.
The first big score of the day comes from a pretty girl in her 20s, who gives me $2 and a smile. Over by the bus stop, a woman smoking and fussing with a mobile phone spills her coffee. She ponders cleaning up, but eventually walks away, leaving the cup on the ground in the middle of the puddle.
Then something amazing happens.
A mother with a little girl attached to one hand walks up and puts a $5 note in my box. Lunch just became a reality. I'm overwhelmed with gratitude, but it turns out the charity is only just beginning. An elderly Indian lady splashes some coins in my box, then a redhead in her 20s hands me another $5 note. Just when I think it can't get any better, a guy of indeterminate age and ethnicity (best guess Middle Eastern, in his early 30s) walks up and a places a $10 note firmly in my hand before smiling and walking off towards the train station.
My next visitors are a mother and daughter combo who hand me a Gloria Jeans coffee and three sugar sachets. I've been here 80 minutes, I've got $26, two sweets and a coffee. Life is good. Then Bill turns up.
Bill's a security guard. A kindly middle-aged Polynesian, he assures me he's just doing his job but it's time for me to move on.
Through his radio I hear his controller say the police are nearby if he needs any assistance.
I ask Bill why I have to move. He says "they" don't allow beggars here. "They" are Britomart. I point out that I am on the street, not in Britomart, but Bill isn't impressed by the distinction. It's move or face the police. I ask under what law am I being moved, but Bill doesn't really have an answer. I'm tempted to take up the discussion with the police, but it's still early and I don't want to be rumbled just yet.
Bill and I part on good terms. I tell him I'm impressed with the generosity and compassion of my fellow Aucklanders.
"When it's genuine, they are," says Bill.
Oh dear.
Lunch is a hearty claypot rice dish from Food Alley on Albert St. It costs $10. If I'd paid for it out of my begging money (I didn't), I'd still have enough for dinner, so I wouldn't go hungry today.
After lunch I set up in a doorway near the Quicksilver shop just down from Wyndham St. It's immediately obvious this spot won't be as productive. The foot traffic is heavy but I'm too far out of the line of sight, easily ignored.
I receive a few small donations and am approached by a guy called Jason for a chat. The first person to speak to me all day, Jason says he's not a street person, but he's certainly no stranger to the street. He's gay and asks if that bothers me. He suggests I head to the City Mission. When I decline he asks why, and I confess that I'm really a journalist.
Jason warns me to be careful. Street people can be violent when they're drunk.
A guy in a green shirt has been checking me out. He's dressed better than most street folks, but I've spied him rummaging through a nearby rubbish bin. When Jason leaves, green shirt is five metres away, staring straight at me. Bit of a concern.
The death knell for the experiment comes in the form of a spinach and ricotta pastry and a bottle of orange juice a pretty girl in her 20s presses into my hands.
The guilt is crushing. It's one thing accepting money that can be passed on to charity (as I do later in the day), it's quite another taking food that could just as easily been given to the next homeless person up the road. Green shirt is still staring, but by the time I pack up to leave he has gone.
I ponder the nature of Aucklanders' charity. There appears to be an inverse relationship between folks' apparent wealth and their level of compassion.
None of the hundreds of suits who have walked past me today have given me a thing. Guess they gave at the office. I'm a white male in my late 30s. Nobody from my subset of the population has helped me out.
No Chinese or Southeast Asians approached me, however sub-continental Asians (or at least people who appeared as if they might hail from India or Pakistan) did.
The vast majority of givers were women, although my single biggest benefactor was male.
Heading back to the office, I place the ricotta roll and OJ next to a beggar with a large "Thank You" sign who is sleeping around the corner from the New World Metro.
The newsroom feels warm and inviting. It's great to be back. Nice for some, I guess.