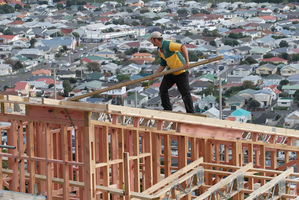 A home being built by inmates at Ngawha prison for a low-income Northland family could be the first of many, a housing charity says.
Prisoners at Northland Region Corrections Facility, just outside Kaikohe, are building a three-bedroom home for Habitat for Humanity Northland, under the instruction of NorthTec tutors. Once complete, the house will be lifted over the wire and trucked to Dargaville.
The scheme sees prisoners earn building qualifications while helping a Northland family into their own home.
Habitat for Humanity, which is effectively a rent-to-buy scheme for low-income families, has so far housed 38 families in Northland. Of those, 14 now fully own their homes.
Executive officer Conrad LaPointe said the family who were initially lined up for the Dargaville house had to pull out after a change in circumstances. But as of this week, another 17 families had expressed interest and five had completed application forms.
Applications close at the end of this month.
Families go through a rigorous interview process before being selected.
"We're looking for a family that's truly aspiring to own their own home and is ready to engage with us for up to 10 years," Mr LaPointe said.
Families helped by Habitat for Humanity did not earn enough or have sufficient savings, through no fault of their own, for a mortgage. Many struggled to pay rent or lived in overcrowded conditions. Two to three families to a house was not unusual.
If a family was found to be unsuitable, the most common reason was a high level of short-term debt. Families burdened with loans charging 25-30 per cent interest was an "insidious problem" all over the country, he said.
"We don't want to set them up to fail," he said.
Mr LaPointe said the organisation was expanding, thanks in part to a sizeable government grant. This year it was building three houses in Northland, next year it was planning five.
Ngawha prisoners' work on the current house was "absolutely first class".
Habitat for Humanity was hoping the prison could build two houses next year, which would stay in Kaikohe.
The organisation was looking into buying land and building four homes in the Mid North town.
Acting prison manager David Pattinson said the house was progressing well.
The first group of prisoners had built the framework, while the second group started training in the workshop this week.
"A NorthTec instructor is teaching this new group how to read and draw a house plan, as well as how to use equipment correctly."
Mr Pattinson said the project boosted prisoners' skills, giving them a better chance of finding work once they were released.
For more articles from this region, go to Northern Advocate