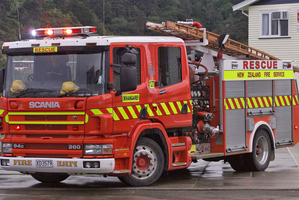 Valuable books are thought to be safe after a fire at Victoria University's library in Wellington this morning was sparked in an acetylene tank.
Firefighters were called to the fire on the second floor of the Rankine Brown Building at the university's campus in Kelburn about 9.10am.
The callout came only four minutes after a magnitude 5.7 earthquake rocked the city, but a Fire Service central communications spokeswoman said the incidents were "probably not" related.
The library and an adjacent open area, known as The Hub, were evacuated.
University spokeswoman Katherine Edmond said the fire was in an area between an entrance to the Rankine Brown Building, which houses the library, and The Hub.
"Technically it's in the library, but it's not like it was amongst rows and rows of valuable books - it was near the library."
Ms Edmond said nobody was hurt in the fire, which was put out later this morning.
She said the area remained closed while property damage was assessed and the Fire Service investigated the cause.
Acetylene is an odourless gas used by welders, but Ms Edmond said she did not know if construction work was taking place at the time.
It was not yet known when the buildings would be reopened.
Crews from eight fire trucks attended the fire.
Do you know more? Send your story, photos or video here.
- APNZ