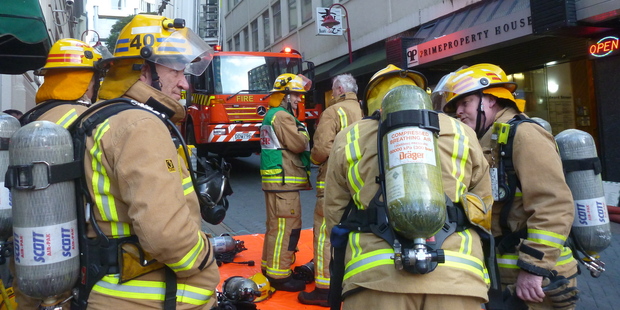 A fire which forced the evacuation of a central Wellington office building this morning is believed to have started in the same laundry room as another fire earlier this year.
Firefighters were called to the nine-storey Prime Property House on Woodward St, off Lambton Quay, after the fire broke out shortly after 8am.
Fire Service senior station officer Brett Lockyer said the fire was confined to a single room on the fourth floor.
It was believed to be have broken out in the same room as a fire in February this year.
The earlier fire, in the laundry room of a day spa, was thought to have been sparked by oily towels in a drier.
It was not yet known what caused today's fire.
Mr Lockyer said smoke from the fourth floor had set off an alarm on the seventh floor this morning.
"Crews gained entry, and we started from level seven and worked our our way down. We found a fire in a room on level four."
Firefighters extinguished the fire using a hose attached to the building's internal dry riser system.
People were allowed back into the building later this morning.
Crews from 11 fire trucks, including a command unit, attended the fire.
The trucks were parked along Lambton Quay but there were no disruptions to morning commuter traffic.
- APNZ