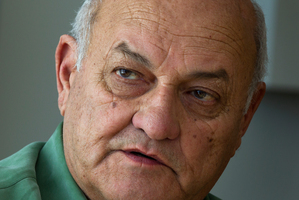 Sir Owen Glenn is believed to be reconsidering his role in his $2 million inquiry into family violence amid concerns about its effect on victims and an allegation that he assaulted a woman 11 years ago.
The Glenn Inquiry's board of governance will this morning make an announcement about the future direction of the organisation, which has been beset by resignations before and after it was revealed that its founder was charged with physically abusing his personal assistant Marja Shaw (now Stowell) in Hawaii in 2002.
He denies the allegation and was not convicted of any crime.
An independent review of the inquiry, released last night, found that members had not taken appropriate precautions to protect details about victims of child abuse. Some of their statements had been recorded on members' mobile phones and laptops, though no personal details had been made available to anyone outside of the inquiry.
While the details of today's announcement are not known, the Herald understands Sir Owen has been reviewing his role on the board and is considering resigning.
His funding for the inquiry would remain secure regardless of his decision. It is not known whether the inquiry would still be named after him.
The board's chairman, Bill Wilson, QC, said last week that it would keep Sir Owen's name and would not be handed over to an independent institution, as one of its members had suggested.
Mr Wilson made those comments before a meeting on Wednesday, which was called to discuss the inquiry's future and its response to the allegations surrounding Sir Owen.
Board members also heard the results of the review by justice reform campaigner Kim Workman and Women's Refuge chief Heather Henare.
The review was sparked by concerns about the inquiry's handling of sensitive personal information.
Mr Workman said some of the inquiry's processes were "less than satisfactory", in particular its records on submitters' information and members' use of personal smartphones and laptops to record victims' statements - "a big no-no", Mr Workman said.
The review also found that the Glenn Inquiry lacked board members with experience in the violence prevention sector and did not have a sound governance structure.
Mr Workman noted the tension between its two key figures and their very different backgrounds - Sir Owen, a wealthy businessman, and the original executive director Ruth Herbert, an anti-violence campaigner with personal experience of abuse.
"They had different expectations of each other and it went belly-up," he said.
Ms Herbert's resignation in May was the first sign of instability.
Mr Workman and Ms Henare made 23 recommendations which included scrapping the inquiry's expert think-tank, setting up an ethics committee, and introducing new safeguards for personal information.
At least 27 of the original 38 New Zealand members of the expert think-tank have quit. Some became concerned for the submitters' safety, and others left since reports of the incident in Hawaii surfaced.
Former Governor-General Dame Catherine Tizard said she had not been notified of the inquiry's future direction, and remained its patron.