Owner cracks down to stop parents using business carpark while collecting kids.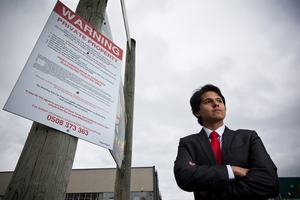 A clamping company charging people $100 for parking for as little as a minute in a carpark have been accused of bullying.
But NZ Wheel Clamping says it is well within its rights to make people pay.
The Automobile Association says the firm's activities are evidence the clamping sector needed to be regulated.
The carpark on Frost Rd, opposite Mt Roskill Primary School, services food retailers but is a popular spot for parents to pick up their children after school. But that used up carparks, so the property owner hired NZ Wheel Clamping to manage the site.
The firm put up signs stating that any vehicle using the carpark for any purpose other than conducting business would be issued a parking violation notice at a cost of $100.
Infringement fees have been issued to motorists who had stopped for one minute, gone into one of the businesses without buying anything and who have paused to open a garage door.
Some people have received charges of more than $500 and if they're not paid within seven days a $60 "administration fee" is added. If it still isn't paid within two weeks another $120 is added before the bill is handed to a debt collection agency after 21 days.
Mt Roskill MP Phil Goff said NZ Wheel Clamping was using enforcement as a "money-making racket".
He said he understood the concern of retailers who want the carpark available for their customers, but that this was not the answer.
"The company is fleecing people who can ill-afford the cost and it's not a fair go," Mr Goff said.
He urged people to take the charge to the Disputes Tribunal rather than pay the fine.
The owner of NZ Wheel Company, Gordon Ward, said the property owner had been made a scapegoat for the fact there was no parking at the school.
"Our signage clearly states how to use our carpark and if they refuse to use it via the way of the signage, then the charges will apply. All the charges are there, including the administration costs - it's all there.
"We are completely transparent in what we charge, we are completely transparent in the way we charge and the people who are in breach are the ones who need to conform, not us."
Mr Ward said any legitimate customer with a receipt would have their fine voided. He denied that his company was bullying people.
Property owner David Hay told 3 News he hired the firm as a last resort because parents picking up the kids was jamming up the carpark. He said he was open to other solutions.
The principal adviser for regulations at the Automobile Association, Mark Stockdale, said the AA wanted the carparking sector to be subject to the same legal regulations as local authorities were so the rules were clear and a maximum penalty could be set.
Motorists urged to contest fines
An Auckland man is warning other motorists to challenge their fines after he was ticketed three times - despite being in the Mt Roskill carpark for legitimate reasons.
Shail Kaushal said he ended up with $600 worth of fines and in the hands of a debt collection agency after going to a fruit shop on three different occasions.
The Puketapapa Local Board candidate said he was let off with a warning the first time. The second time, the shop didn't have what he wanted so he left - only to later be sent a $200 charge. The amount included that day's parking and also charges from the first day when he had been let off.
The fine reached $600 after he went back to the supermarket a third time, despite his having bought something.
Eventually, all of the $600 was dropped because he could prove he went to the shop through CCTV footage and a receipt.
What the law says
* Landowners have no legal basis for charging a fine or penalty. Neither tort nor contract law allows them to punish you for breaking contractual terms or trespassing.
* Landowners can only claim from you the expenses they reasonably incurred as a result of your contractual breach or trespass.
Ministry of Consumer Affairs.