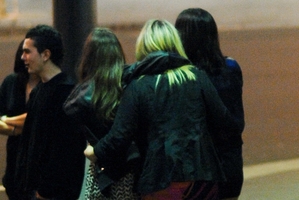 While Auckland councillors struggle to come up with a polite way of moving beggars off downtown pavements, the much larger problem of drunken youths staggering about the bottom of town remains firmly parked in the too-hard basket. A cynic would suggest even the police are in retreat, recently fleeing their Fort St station in the middle of Party Central for the headquarters in Cook St.
A report to next week's Auckland Council community safety forum gives a new snapshot of this ongoing problem. In March, the council, in partnership with the Accident Compensation Corporation, St John Ambulance and the police, set up a "safe zone" Portacabin outside the Britomart train station "to provide a place of safety and triage service for minor medical treatment".
It was staffed from 10pm to 7am on Fridays and Saturdays over four weekends. In that time, 88 people were medically treated - of whom 16 would normally have been transported to a hospital emergency department. A further 700 or so "visited the zone for social support".
The main reasons for attendance were excessive consumption of alcohol or drugs (57 per cent), the need for practical advice (36 per cent) and medical treatment.
As anyone who has ventured into the badlands of the most liveable city in the world after dark will tell you, the 100 or more drunken youths who staggered into the "safe zone" for help on each of those nights in March were just the tip of a social problem that makes downtown Auckland "exciting" in all the ways Mayor Len Brown didn't mean when he set up his task force a year ago to create a "safe, friendly, clean and exciting" city centre.
This was around the time the New Zealand Japanese Society issued an advisory to members to avoid Queen St and "unnecessary visits to the city".
The warning advised that if approached by drunks, "try to get away and head for a well-lit area", and if "threatened with a knife or other objects, do not resist; just give them what they want ..."
There had been high hopes alcohol-reform legislation that slowly progressed through Parliament might have hit the problem at its most obvious weak point - easy access to booze.
But by the time the Sale and Supply of Alcohol Act was passed last December, it had been so watered down it was useless. The minimum age of purchase remained 18, kids could still buy single bottles of alcopop to preload on, there was no sharp hike in alcohol taxes and bars could remain open until 4am.
The parliamentarians just passed the parcel back to Auckland Council and the police.
The "safe zone" pilot was an ambulance at the bottom of the cliff, which the various parties are now looking for ways to fund on a permanent basis.
Heart of the City, the CBD business association, is also doubling the size of its "city watch" team of private "police" to eight to help patrol the streets with the police.
It's also behind the "bar watch" radio scheme, which links bars in Fort St and Karangahape Rd by radio with police headquarters.
If a drunk is banned from one of the participating bars, his details are passed on to other members, who are committed to refusing entry to their premises as well. If a bouncer lets someone in after his bar has been notified he has been banned elsewhere, the bar risks losing its licence.
Heart of the City boss Alex Swney says bar watch is such a success other bars are applying to join. But of course by the time someone is so drunk they have to be banned, the battle is lost anyway.
This is not a new problem. In 2000, I was reporting about Mr Swney's plans to set up his private "police" force to cope with burgeoning numbers of drunks. Police statistics at the time revealed that 44 per cent of those arrested on liquor charges were only 16 years old and 18 per cent were aged between 12 and 15.
There was also talk of introducing CBD liquor bans. We have them now but the drunkenness continues unabated.
The experts recommended raising the age of purchase, restricting access, raising prices and earlier closing of bars as ways of reducing the problem, but the parliamentarians refused.
No doubt they'll refuse to pay for the permanent detox "ambulance" now being planned at the front door of the world's most liveable city.