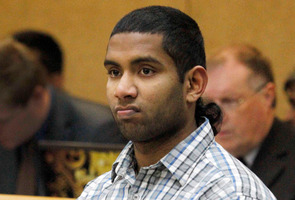 Thuvan Prawesh Sawal took the passport of Canterbury dairy farmer Sameera Chandrasena Battelage after slitting his throat, perhaps with designs on stealing his identity, a court heard today.
Sawal denies the February 2012 killing, and instead blames murder co-accused Viraj Alahakoon.
Sawal claims he witnessed Alahakoon cut the throat of Mr Battelage ``like a sheep'' as he slept, in a murderous, jealous rage after learning of an affair.
On the 19th day of Sawal's and Alahakoon's High Court trial in Christchurch, both defence teams gave their closing addresses.
Alahakoon, 35, and Sawal, 24, blame each other for the murder of Mr Battelage at his farmhouse on Domain Rd, just outside Oxford in North Canterbury on February 23 last year.
The Crown says the pair plotted to kill Mr Battelage after he had an affair with a woman Alahakoon knew.
Together, they allegedly stabbed or cut Mr Battelage's neck six times before dousing his body in petrol and setting it alight.
The court has heard that Mr Battelage was surprised when the pair showed up at his rented rural property on the evening of February 22, last year.
Alahakoon, who'd just been laid off as a jeweller, and Sawal say they wanted to confront him over the affair.
Alahakoon's defence counsel Pip Hall QC said few crimes require proof of a motive, adding that it was not the job of the defence to disprove a motive.
But Sawal, who was an overstayer, nonetheless had a "motive to kill'', he said.
Sawal's work visa had run out and there was a warrant out for his arrest.
He was "desperate'' to look for a way to stay in New Zealand, Mr Hall said.
Alahakoon says Sawal stole Mr Battelage's passport after the killing, with the thought of swapping the photo of the dead man with his own.
Sawal's defence counsel John Brandts-Giesen said Alahakoon took him along as "bait'', as part of his plan to kill.
"Friends do not kill friends, unless there is a motive that far outweighs that friendship.''
The three men drank at Oxford Working Mens Club before returning to Mr Battelage's house.
After drinking more vodka, Alahakoon - who played senior club cricket with the victim at Oxford - says he fell asleep on the lounge floor.
He claims Sawal woke him shouting, covered in blood, with Mr Battelage lying dead on the couch.
Sawal denies that version, saying he had been outside smoking a cigarette when he saw Alahakoon attacking Mr Battelage.
Sawal says he tried to stop the assault and that's how the dead man's blood came to be on his clothing, which was found by police dumped outside a Christchurch red zone property.
Mr Battelage's badly charred body was found by firefighters later that morning.
The pair were soon arrested and charged with murder and arson.
Alahakoon is also charged with assaulting a woman, who has name suppression, with a pair of scissors on December 5, 2011, and again on Boxing Day that year.
The trial continues tomorrow when Justice Christian Whata will sum up the evidence for the jury before it begins deliberations.
- APNZ