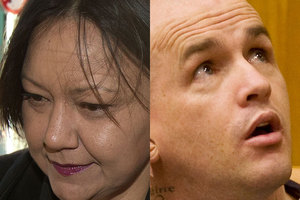 Lawyer Davina Murray insisted the door be shut when she met convicted murderer and rapist Liam Reid in a room prison, a court has been told.
Murray has denied smuggling an iPhone, cigarettes and a lighter to Reid inside prison.
Prison guard Noel Purcell told Auckland District Court today he was working on October 7, 2011 when Murray came to visit Reid inside Mt Eden prison.
He said Murray came in with legal papers, a laptop and her handbag.
"She said to me - if my memory serves me right - 'Oh, what a beautiful day, it's going to be a beautiful day."
Mr Purcell said Murray met Reid in a small room while he patrolled the corridor outside and occasionally looked in through a slot in the door.
He said Murray had previously complained to his boss about him monitoring the meeting rooms.
Mr Purcell said while most lawyers left the door open for safety reasons and air-flow, Murray always insisted on the door being closed.
He is expected to give evidence tomorrow about how an iPhone was found in Reid's shoe.
The court also heard today from Shane Clayden, who prosecutes prisoners found with contraband.
He denied questions from Murray that he had offered Reid $500 for the iPhone and said he had not heard prison guards making similar offers.
Earlier, Murray took almost a day to cross-examine the officer in charge of the investigation, Detective Darren Tolmie.
She alleged the police had operated their investigation in "bad faith" and they had not fingerprinted the phone.
Mr Tolmie said the phone had passed through a number of hands but the investigation had been thorough.
He confirmed that Murray was the only suspect in the case.
The Crown says that just days before, she was at St Lukes shopping centre and signed up to a two-year business plan for the Apple iPhone which would cost her $4152.
Vodafone analyst Robert Kainuku told Auckland District Court today a salesman recorded Murray's driver's licence number and her name on the documentation.
Murray, who is representing herself, has claimed the cellphone was planted by prison staff.
Murray said she intended on calling inmates - including career criminal Arthur Taylor - who would give evidence about cellphones being planted on prisoners inside prison.
She has told the court she acts as an advocate for Reid who is serving a 23-year sentence for the 2007 rape and murder of deaf woman Emma Agnew and the rape, attempted murder and robbery of a 21-year-old student in Dunedin nine days later.
The hearing has been heated at times with Judge Russell Collins reminding Murray she was not in front of a jury or on American television.
Murray has also been asked to stop pacing around her desk and talking over witnesses.
Judge Collins also issued Murray with a warning last night to be on time.
"Ms Murray, you are still remanded at large but on two occasions the court has been significantly held up with you being late ... So if you want to continue to enjoy being remanded at large than please be on time."
- APNZ