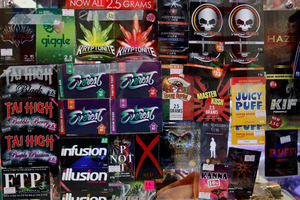 Police warn they will be proactive in cracking down on newly banned drugs under a law which came into effect at midnight.
The Psychoactive Substances Act bans sales of synthetic drugs from dairies, grocery stores, petrol stations or anywhere alcohol is sold.
The law also prohibits sales to people aged under 18, introduces strict labelling requirements, and bans advertising, except for at the point of sale.
Synthetic drugs must now be approved by an official regulator within the Ministry of Health before they can go on sale.
Deputy Commissioner Mike Bush said police would be proactive in clearing communities of the substances.
"Police believe that by severely restricting the sale of these products fewer people will experience the harmful effects of smoking or ingesting unknown synthetic chemicals."
Mr Bush said it was vital retailers understood the need to remove stock from their shelves.
He said police would work with district health boards to ensure dairies and convenience stores in their communities were not selling banned products.
"For the first few weeks we will take an educative approach, but after that there will be strict enforcement of the new legislation.
"There has been significant and justified community concern over the impact these products have had throughout the country, particularly on vulnerable young people, and this legislation is a key means to respond to this harm.
"With the power to take enforcement action, we will be able to respond to community concerns far more effectively."
Mr Bush said police would investigate and prosecute any business not authorised to sell synthetic drugs.
"We also encourage anyone who sees these products being sold by a retailer who they believe shouldn't have them for sale to report it to police immediately."
- APNZ