Driver of truck-and-trailer unit in collision with Jane Farrelly will not be charged.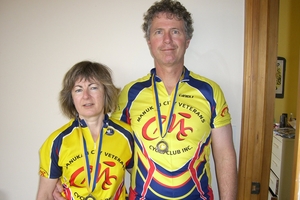 The family of a woman killed in a cycling accident are stunned no one will be charged over her death.
Jane Farrelly, a mother of two, died while on a group ride with her husband, Ian, and friends near Taupo in March. After she died, her family pleaded with motorists to better share the road with cyclists.
Yesterday, police confirmed that they would not be prosecuting the driver of the truck-and-trailer unit that was in collision with Mrs Farrelly.
Bay of Plenty road policing manager Inspector Kevin Taylor said only the facts of the case were taken into consideration and not the heightened public concern over the safety of cyclists.
"I am aware there is significant commentary around sharing of the roads and cyclists and other motorists. In relation to decisions made on this crash, only the information taken from this police investigation was considered in assessing any driver culpability," he said.
The accident happened in view of Mr Farrelly. He and his wife were in a group of cyclists riding up a hill on 100km/h Poihipi Rd, north of Taupo, when the truck-and-trailer unit, carrying farm implements, came from behind.
Mr Farrelly watched his wife get up out of her seat, which was normal going up a hill, and then look back as if she had sensed something behind her.
She wobbled slightly and collided with the truck.
Last night, Barbara Cuthbert, of Cycle Action Auckland, said she had spoken with Mrs Farrelly's sister Tina McCullough, who told her the family were in shock over the police decision not to lay charges.
"Clearly I'd say they're stunned and horrified by this news."
Mrs Cuthbert was unable to say what message the police decision sent to road users until she had more information.
At Mrs Farrelly's funeral, Ms McCullough asked drivers to think carefully when they saw cyclists on the roads.
"We're mums, we're dads, we're daughters, we're sons. Share the word, share the road," she told mourners.
Also at the funeral, Mr Farrelly spoke of the "void that may never be filled" now his wife of 26 years was gone. He said the accident was "brutal" and it was a tragedy that should never have happened.
The female riders of the group, who cycle with the Manukau City Veterans Cycle Club, were supposed to be competing in a ride around Kinloch which was postponed, but they decided to travel to Taupo anyway.
On average, about 10 cyclists are killed each year in New Zealand in crashes with motor vehicles on public roads.
Green MP Julie Anne Genter has called for an independent review of the police decision not to prosecute the driver.
Ms Genter said police needed to strengthen the "culture of care through enforcement and prosecution'', where necessary.
"The police don't seem to be enforcing the current law that requires drivers to pass cyclists in a safe way,'' Ms Genter said.
She called for a law change to make it mandatory to give cyclists a 1.5-metre berth.
Statement from Jane Farrelly's family:
All New Zealanders should be concerned by serious shortcomings in the
police decision not to charge anyone over the fatal crash that claimed the
life of Auckland cyclist Jane Farrelly.
Jane - a mother of two - was killed on March 16 while cycling near Taupo
with her husband and a group of friends. She was struck by a Transpower
truck, and died at the scene.
The accident prompted nationwide calls for greater protection for
cyclists; and the need for more care and concern from passing motorists.
Today's announcement by police that no action will be taken against the
driver has left Jane's family and friends stunned and distraught.
We now have to question whether investigating officers pursued this
important case with an open mind.
The decision not to prosecute suggests police are blaming Jane, even
though the driver has admitted making an illegal manoeuvre at the time of
impact. (He has acknowledged passing the cyclists in a yellow lined
area.)
Eyewitness reports suggest Jane moved slightly out of single file at the
time of the accident. But she was not event at two abreast level. If the
driver had observed the 1.5 metre passing rule, Jane would not have been
hit.
We are deeply concerned that witness statements provided by cyclists who
witnessed the accident, appear to have been ignored. And we wonder why
police have failed to act on a statement from a second group of cyclists.
This group reported the same vehicle passing them in a dangerously close
manoeuvre shortly before the fatal accident.
The police investigating Jane's tragic and untimely death had an
opportunity to send an important message to all drivers about the need to
respect the law and other road users.
Their failure to enforce the law is inexplicable and disheartening