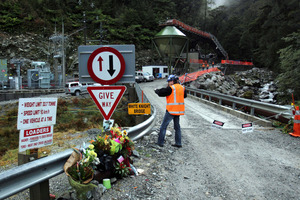 Pike River families were told tonight the police would not prosecute anyone over the November 2010 disaster that claimed 29 men.
About 50 families and supporters attended a meeting with police in Greymouth tonight.
A lawyer for the families said afterwards that they were now considering their options, including the possibility of some sort of civil action.
Lawyer Colin Smith said there was a "sadness" at the lack of accountability, "especially when the disaster was avoidable, so totally avoidable''.
Spokesman for some of the families, Bernie Monk, who lost his son Michael, said government departments could not be sued, referring to the former Department of Labour.
"Families now have to evaluate what they want to do from here."
He said it was "quite an emotional scene" inside the meeting.
Both Mr Monk and Mr Smith said the law needed changed, with Mr Smith saying there should be a charge of corporate manslaughter.
"Companies can't be held criminally liable (now)."
Mr Smith said police had explained the real problem was proving causation. Although the Royal Commission favoured a roof collapse, release of gas and subsequent electrical spark, other theories could not be ruled out.
No one had been able to get inside the mine to examine the scene.
Civil action, he said, was "certainly something we will be looking at".
Detective Superintendent Peter Read, who headed the investigation begun one day after the first explosion, said there was insufficient evidence to lay manslaughter charges.
There was general acceptance and ample evidence that there were widespread departures from accepted standards of mine operations but the lack of any causative link to the specific events which led to the explosion meant a manslaughter prosecution of any individual did not meet the standard of evidential sufficiency.
There was enough evidence for criminal nuisance charges but that raised double jeopardy issues, with former mine manager Peter Whittall also being prosecuted by the Ministry of Business, Innovation and Employment, Mr Read said.
"This has been a very difficult decision and not one taken lightly'' he said.
"I informed the families of the 29 men this evening and I know they will be very disappointed. I can only give them my absolute assurance that we have been meticulous in our investigation and consulted widely as the inquiry progressed.''
If the mine was ever re-entered, there could be a scene examination, but Mr Read said there was no certainty this was would produce new, relevant information.
The investigation had been one of the most complex undertaken by police, involving formal interviews with 284 individuals, 25,000 pages of witness statement transcripts and some 34 million pages of documentation relating to the operation of the Pike River Mine.
"Up to 16 police investigators have been involved at any one time and a range of experts have provided technical input to the investigation. Advice has also been sought from Crown Law and the Crown Solicitor,'' Mr Read said.
"However at this time police believe this matter is most appropriately dealt with through the health and safety prosecutions led by the Ministry of Business, Innovation and Employment.''
He said the decision was based on the best information available to police at this time but it was possible that at some point in the future, re-entry to the mine might be achieved and allow a scene examination to be done.
"However, I stress there is no certainty that this would produce any new relevant information. Even if new information was identified, there is no guarantee that it would lead to a future prosecution,'' Mr Read said.