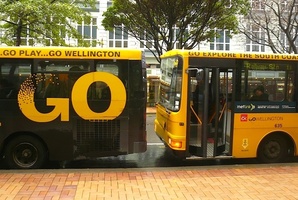 A Wellington bus company is undergoing an urgent review after safety checks uncovered more than 100 faults on its fleet.
Over a three-week period, the New Zealand Transport Agency and police inspectors found a number of safety failures on Go Wellington's yellow buses.
Hundreds of commuters were caught short in May when 11 buses were ordered off the road after failing the safety checks.
The "minor to moderate" faults ranged from exhaust fumes entering the bus and oil leaks to missing emergency exit signs and loose seats and grab rails.
The checks came after the NZTA and police focused on activities of City Transport Limited, owned by NZ Bus Limited and operating under the trading name of Go Wellington.
Results of the inspections, from April 16 this year to May 9, have been published on the NZTA website after a request made last month by a member of the public under the Official Information Act.
"NZ Bus Limited have taken these findings seriously, and have instigated a full review of the maintenance and operation of their fleet, and have worked proactively to meet targets that have been set to improve the overall safety of their operations," said the NZTA response to the OIA states.
"It should be noted that the NZTA is satisfied that the issues identified in this report have been rectified, and that there are maintenance programmes being developed and enacted to ensure continued compliance."
NZTA stressed that Go Wellington operate 223 buses in the region.
Go Wellington chief executive Rachel Drew said a maintenance programme of the fleet had already been planned, but after the safety blitz, it's been accelerated.
"We responded immediately to the issues identified and have put a lot of resources and effort into ensuring that the standard of the fleet has been looked at and any issues rectified," she said.
Any buses identified as having issues were pulled off the road immediately and fixed, she said.
Driver training has also been increased, especially in the area surrounding pre-departure checks.
"These vehicles are doing 100,000 kms a year, and these things do happen, so we need to ensure they are picked up straight away and the maintenance is undertaken," Ms Drew said.
"Safety is absolutely our first priority. It was pleasing that there were no major safety faults, but there were a number of very small, minor compliance related issues that needed to be sorted through."
Go Wellington is confident that the fleet is now in a better state than it was earlier in the year.
New Zealand Police were unable to respond to queries on Go Wellington today.
Last year, NZ Bus director Tim Brown suffered serious injuries after he was hit by one of his company's own Go Wellington buses on Willis Street in the central city.
- APNZ