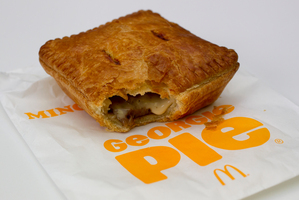 McDonald's is extending its Georgie Pie trial.
Another six restaurants will sell the much-mourned chain's famous steak mince 'n' cheese pie, bringing the total to 17.
Two more Auckland restaurants have started to sell the pies this week and two restaurants in Palmerston North, one in Feilding and one in Bulls will follow suit from early August.
McDonald's New Zealand managing director Patrick Wilson said since the pie was launched at its restaurant in Greenlane, Auckland, the number of ovens had been doubled to meet demand.
"The sales to date have been far greater than we projected which tells us Kiwis are still passionate about Georgie Pie and all the work we did to stay true to the original recipe was worth it.
"Bringing back a product after 15 years is a complex process and the addition of these restaurants will help us continue to test the product operationally across a range of our restaurants and inform the options for a nationwide rollout."
The pies use New Zealand beef and sell for $4.50 each. MSG has been removed from the original recipe.
- APNZ