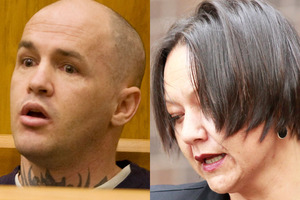 Lawyer Davina Murray was in love with convicted rapist and murderer Liam Reid and was planning to marry him inside prison, a court has heard.
Murray has denied a charge of smuggling an iPhone, cigarettes and a lighter to Liam Reid while he was in Mt Eden Prison in 2011.
Text messages sent from Murray's iPhone were read out in Auckland District Court today.
In one of the messages, Murray asked a friend in Australia to come to New Zealand.
"...Need to smuggle in 2 witnesses into jail as my staff to witness my wedding. When he gets out we will do the big la-la."
Murray discussed wedding vows with the friend and said the secret marriage could jeopardise Reid's appeal.
"My heart says: 'I should just do it' but my head says: 'Wait'."
The Crown says the text messages show the relationship between Murray and Reid was not simply a lawyer-client one.
In response to a question from a friend, Murray answered: "No, we haven't but we have come close - damn prison guards."
She also told a friend she had kissed Reid in a way she had never kissed anyone before.
"I hate that I'm in love with him ... if the courts say no, I wouldn't care but I'm scared to lose him ... He makes me laugh, he makes me think, he makes me cry, he makes me feel beautiful, he makes me sing."
Reid is serving a 23-year sentence for the 2007 rape and murder of deaf woman Emma Agnew and the rape, attempted murder and robbery of a 21-year-old student in Dunedin nine days later. He has been called to court to give evidence.
Phone calls between Murray and Reid can also be reported now.
Murray had sought to have them excluded from the evidence because she said they were protected by lawyer-client privilege.
But Judge Russell Collins said the calls did not deal with Reid's legal affairs and it appeared Murray was trying to "coat-tail" on the legislation that protects prisoners.
In one of the calls Reid asks Murray to make sure he can be at a prison event.
"I expect results by the next time or I'll f***ing smash you."
He then goes on to say: "You need to talk to them about recording these phone calls".
Another conversation appears to be about the iPhone Murray is alleged to have brought into the prison for Reid.
"If they start anything stupid against you, even though I said it was a staff member, then I'm just going to go on the attack mode," Reid says.
Crown prosecutor Anna Longdill said the conversation happened shortly after Reid was found with a cell phone and showed the pair were trying to get their story straight.
The trial is due to finish on Friday.
Seven recorded phone calls between Murray and Reid have been played to the court. They include the section below:
Reid: "... Sometimes, um, it sounds like ... I'm being really harsh and that towards you and I am sort of, but I just want you to harden up a little bit aye? I want you to be strong.
Murray: "You have no idea how f***ing strong I am ..."
Reid: "... I need you to be strong for me most of the time mate, cause f***ing you're all I've got you know ..."
Reid later ends the conversation with: "I've gotta go because I've gotta go to my cell and move some sh*t around otherwise they take it ..."
- APNZ