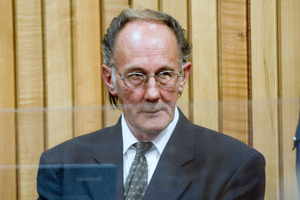 The house shifted to Whanganui prison grounds to accommodate convicted sex offender Stewart Murray Wilson at a cost to taxpayers of $164,000 is now lying empty after he was recalled to prison.
The man dubbed the 'Beast of Blenheim' was sent back behind bars in February after breaching his parole conditions by phoning a vulnerable woman he was barred from speaking to under strict release conditions.
Wilson boasted he could cut off his monitoring bracelet and flee to Australia with her.
The four-minute phonecall was uncovered by community probation officers and ultimately led to the sex predator's recall to prison.
Today, a High Court judge rejected an appeal by Wilson against his recall.
Wilson was jailed in 1996 for 21 years for serious sexual and violent offending against women and children involving cruelty to children, stupefying adults and bestiality.
The 66-year-old was controversially released to a former state house outside Whanganui Prison grounds last August, subject to 17 strict release conditions.
The weatherboard two-bedroom property, which cost $164,383, now lies vacant, the Department of Corrections confirmed today.
"We don't have an update about what's happening with the house or the gardens at this stage, it's too early to say," a spokeswoman said.
Earlier this year, Whanganui deputy mayor Rangi Wills raised fears that the house could be used for other high-risk offenders.
The Corrections spokeswoman refused to say which prison Wilson has been recalled to.
"We don't comment on the individual management of offenders."
He'll be seen by the parole board in March next year in accordance with the statutory cycle of parole hearings.
Since he was recalled, his prison term is now due to end on September 1, 2015.
Following his release last August, Wilson contacted a woman referred to in court documents only as Ms A who had been in contact with him for seven years while he was at a Christchurch prison.
On November 27, Wilson was issued with a written direction from community probation not to associate with her, via phone contact, text message, writing letters, or communication through a third party.
But last Christmas, she sent him a gift and on February 17 he phoned her at home.
Worrying details about the illicit phone conversation emerged in High Court judge Justice Alan MacKenzie's judgement throwing out Wilson's recall appeal.
Wilson told her he had a secret cellphone with internet capabilities that Corrections staff didn't know about.
When community probation found out about the call, police interviewed her.
She told police that in previous phone conversations, Wilson had "talked about how he wanted to take her to Australia, how he always had $1000 in his back pocket, and how it was easy for him to break his bracelet off and run away".
His parole officer immediately applied for a recall order, which was granted by the Parole Board on April 10.
Wilson appealed against the decision at the High Court, with his lawyers arguing his claims of being able to cut off his monitoring bracelet and go to Australia were merely "acts of bravado" and "fanciful".
Justice MacKenzie said the conditions of parole, and of the extended supervision order which will come into force when parole ends, had been designed to address a long-term risk arising from Wilson's pattern of offending, which includes "grooming vulnerable women".
- APNZ