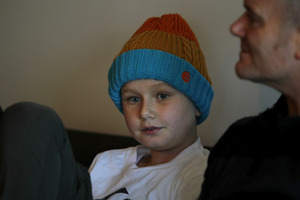 Mount Maunganui surf lifesaver Allan Mundy has saved countless lives. Now he is doing all he can to save his son's.
Harrison Mundy, 10, has been diagnosed with Ewing Sarcoma - a rare form of cancerous tumour that grows in bones or the soft tissue around them.
Ewing Sarcoma makes up only 1 per cent of all cancers diagnosed and typically affects children.
The keen hockey player was training for the Omanu Sticks a month ago when he fell, complaining of pain to his little finger and arm afterwards.
"He had what we thought was a hockey injury," Mr Mundy said.
"That started to get worse. When he got to the stage where he had really bad pains in his hands we went to A&E. We just thought we would go in, be told 'this is what you have done', but no."
Harrison was admitted and and MRI scan revealed a tumour the size of a softball on his vertebrae. It was part of the cancer located in his spine.
Mr Mundy said the diagnosis was "like having your heart ripped out".
Harrison was taken to Auckland's Starship Children's Hospital on June 20. Since then he has had 76 procedures to help fight the cancer, and he will need chemotherapy every fortnight for 12 months.
Preliminary tests indicate the treatment has already reduced the size of the tumour.
The family returned home on Friday and are now adjusting to a new life.
Harrison's mum Hayley does not known when she will return to work and Mr Mundy is taking advantage of school holidays from his job at Mt Maunganui College.
Harrison said he was glad to be home and had missed being with his school friends.
Mr Mundy said they were lucky to have picked up the cancer the way they did, otherwise it could have been "too late".
The Mundys have been inundated with support, including a donation from surf lifesaving legend and octogenarian Sid Salek, who raised $5 for each kilometre he swam in Vanuatu this month.
"It's always been a big family [Surf Life Saving New Zealand] but when you get something like this, it's really humbling," Mr Mundy said.
Mt Maunganui College is organising a head shave event and a "Mundy Fundy" had been set up through Papamoa House of Travel to help the family through Harrison's treatment. More information and account details are available at www.surflifesaving.org.n z/news.
WHAT IS EWING SARCOMA?
Ewing sarcoma is a form of primary bone cancer. Primary bone cancer is different from secondary bone cancer in that the cancer begins in the bone. In secondary bone cancer, the cancer begins somewhere else and spreads to the bone.
Bone cancer is very rare. Primary bone cancer is even rarer.
Source: www.kidspot.co.nz
BOP lb
- APNZ