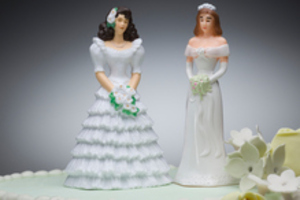 Four finalists have been announced for a radio competition that will see one of the first gay and lesbian marriages in the country.
Two couples will be named winners, one gay and one lesbian, to be married simultaneously at the historic Rotorua Museum.
The radio station behind the competition, The Edge, announced yesterday the top four couples who will campaign over the next two weeks for votes.
Only one gay and one lesbian couple will be part of the event on August 19.
The four couples are Richard Rawstorn and Richard Andrew (Christchurch), McColm Cowden and Keith Brown (Auckland), Jess Ives and Rachel Briscoe (Bay of Islands) and Bridget Casse and Michelle Smales (Auckland).
Ms Casse and Ms Smales have been campaigning since entering The Edge competition, gaining interest from their Facebook fan page and internet site Gay Express.
"We're incredibly excited to have this opportunity. We're parents to a baby girl and we would love to share our special day as a family," Ms Casse said.
"It means we can be considered equal in New Zealand and we can legally bind our commitment to each other."
For more articles from this region, go to Rotorua Daily Post