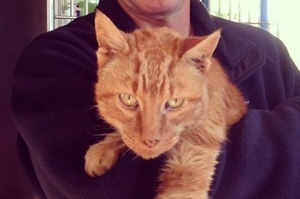 It has been third time lucky for the owners of a cat who had given up their pet for dead after he disappeared for eight months on Waiheke Island.
Terry Runham lost Ken after taking the cat on a trip to Waiheke to stay with his daughter in November last year.
The 9-year-old cat had holidayed on the island before without incident, but as soon as he was let outside he disappeared and did not return.
Mr Runham and his daughter Tamara plastered the island with missing posters, and searched surrounding streets for days afterwards.
Hopes soared when a feline doppelganger was spotted, but when Mr Runham brought the ginger cat back to his daughter's home he realised it wasn't Ken.
That case of mistaken identity was repeated a month later.
As the New Year came and went all hope was lost, and Ken was mourned. Then, last week while holidaying in the United Kingdom the Runhams had another call.
Ostend resident Grant Thompson, 61, had been walking above Matiatia Bay when he spotted a sorry-looking cat trying, and failing, to catch birds.
"It was pretty skinny and weak ... It was obviously an ex-pet cat that could respond to me and let me pick it up," Mr Thompson said.
He took the cat to the local SPCA.
Sue Runham said when their daughter visited the SPCA and sent through a photo of Ken she was excited, although her husband remained sceptical.
They flew home last Sunday, and the next day took the ferry to Waiheke. There were no doubts this time, and Ken has already settled back into his old life.
The central manager at Waiheke SPCA said the case highlighted the importance of micro-chipping pets.