Youth have been guinea pigs for transforming the welfare system to help people find jobs - an approach being rolled out to adults this week. We look at how it affects the Papakura community.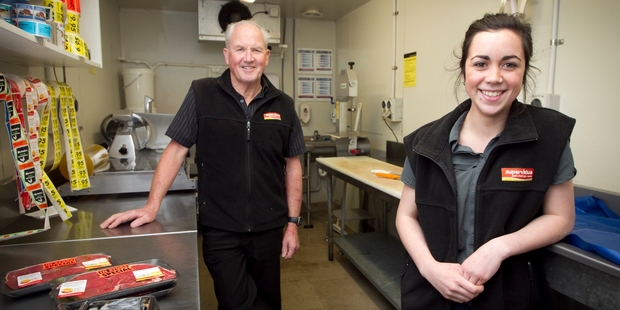 Youth services are meant to be the model for transforming our welfare system from "gatekeeping" to "coaching" but results so far in Papakura are patchy.
The 47 youth service providers from Kawakawa to Invercargill have been contracted since last August to "coach" 1346 teen parents, 1069 youths aged 16 and 17 who are alienated from their parents and receiving youth payments, and 6164 others aged 16 and 17 who are not in employment, education or training.
Work and Income still holds the gatekeeping role of deciding on applications for youth payments, leaving the coaches to focus on helping young people to think about their goals in life and find the kind of work or training they need to reach those goals.
At its best, as for 18-year-old mother Ana Manu, her youth coach Angela is exactly the kind of mentor she needs.
Her daughter, also Ana, was born in May 2011 before the new system started. Ms Manu stayed at home with her own mum, receiving an emergency maintenance allowance until the new young parent payment started.
She was introduced to the Solomon Group, a training provider which is part of the Tainui Whanau Ora collective and later won the youth service contract for most of South Auckland, when she went to Edmund Hillary Primary School near her home in Papakura to pick lemons from its community garden.
"One of the teachers approached me about a course that was going to be held there," she says.
The six-month course in child development and family learning hooked Ana and she did more courses at Solomon Group's Manurewa office. When Work and Income assigned her to the new service, Angela only had to walk upstairs to find her.
Since then, the two have been in constant contact.
"She would come in like once or twice a week because she's quite proactive with the things she wants to do and she's always asking questions and she has good support at home," Angela says.
"She can ring or text me any time, a lot of my clients do."
Samantha Paul, 17, has also done well after a hard start in life.
She did not get on with her parents and left school at 16, but her youth coach Tarsh has smoothed the path for her to get a job working with her great-uncle Bill Morris in the meat department at the SuperValue store in Settlement Rd.
But the experience of other young Papakura people has been more mixed. Deanna Hura and Joanna Edwards, both 17, graduated together on July 4 after completing an employment skills course at Skills Update in Walters Rd.
Ms Hura does not know whether she has a youth coach.
"We just got the card from Winz [Work and Income] for the Solomon. Nana called them. They told us to go but I didn't go," she says.
Ms Edwards left school with no NCEA credits and has earned 56 credits at Skills Update, including level 1 literacy and numeracy. She plans to enrol in a foundation nursing course at Manukau Institute of Technology (MIT).
She was assigned a youth coach at Solomon Group but has been there only once: "I had to fill in this paper because I changed my address and phone number."
Work and Income says she "failed to meet her appointments, has not replied to numerous phone calls and letters and has not attended training courses. This has led to her benefit being sanctioned".
Destiny, a young mum who has just turned 19 and had her second baby this month, has found it difficult to reach her youth coach 9km away at Manurewa.
"Every time I applied for a food grant, they told me I had to go all the way to Manurewa," she says.
"I'd ring Winz and they would tell me I had to speak to my service provider. I'd ring my service provider and they would tell me I could go in.
"I don't have a car to get over there, so I had to pawn off my stuff just to get food."
She says her youth coach has not talked to her about her goals or education.
"They've done nothing really for me."
But Destiny has found her own guardian angel. Kylie Urwin of the Manukau Urban Maori Authority (MUMA) started a programme for teen mums and literally walked the streets of South Auckland to find them.
Destiny is one of seven she found in Papakura.
"She helped me get into a course, Dynamics of Whanaungatanga, in Papatoetoe where they are based," Destiny says.
Ms Urwin's team used three vans to pick up young mums and their partners and take them both to their own base and to MIT. They provided food and childcare.
Literacy, numeracy and te reo Maori were embedded in whanaungatanga - family relationships - for teenagers who often came from broken families.
"It's touching on areas that they might have faced back in the day, what they call the revolving aisle as far as their parents are concerned," Ms Urwin says.
"It's working on things that may have caused a rift, the lack of guidelines. It's being able to honestly work from the inside out."
The programme, funded on a pilot basis by Te Puni Kokiri, builds self-esteem for young people who feel put down by mainstream agencies such as Work and Income.
Ms Urwin has been to Work and Income as an advocate for Destiny's partner Maynard after his benefit was cut off for two years, but found the staff attitude to him "atrocious".
"Yes, the young man has had a little bit of a background," she admits.
"I said, 'Excuse me, my client has the right to be treated as a citizen, as opposed to a moron'."
Maynard also attended Ms Urwin's course and she is keen to extend the pilot.
"The main thing is about supporting the people wholeheartedly, and holistically working on the ground with them."
Solomon Group projects director Kiri Solomon says her agency is looking at ways to reach marginalised young people, including working with other providers such as MUMA.
"Our service is fully mobile - all our staff have access to cars for this purpose. We can and do go to clients that actually engage with the service, whether it's home visits or in places where they feel comfortable," she says.
"We tendered for the service knowing what the funding was set at. It is what it is. We obviously try our hardest to make that funding work as well as we can."
On the web www.youthservice.govt.nz