Big hits and injuries routine in thrilling sport of ice hockey - just ask the mother of Botany Swarm's three brothers.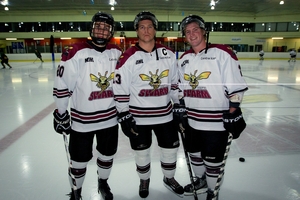 First, you must know how to skate. Not on that new-fangled 18th-century invention called roller skates, but on thin blades that carve the ice and, on sharp turns, send out bow waves of fine spray.
This is a mystery to a man who spent much of his children's upbringing sitting wet-arsed on suburban rinks as toddlers sailed serenely past. But skating is second nature to the hulks who whizzed round the rink at Paradice Botany on Sunday evening.
They were dressed not in figure skaters' frilly shirts and sequinned trousers, but in kit that made them look like bomb disposal experts: shin pads; helmets with visors or face cages; and thick wadding in sensitive areas. On their lower backs bulged purpose-made kidney protectors.
The occasion was the second match in a national league double-header between the locals, Botany Swarm (motto: "Pure Poison") and the visitors from the deep south, Dunedin Thunder.
The hosts, smarting from a 4-5 extra-time loss the previous evening, were impressively focused: our photographer struggled to get a shot of the three brothers in the team - Andrew, Oliver and Joshua Hay - because one of them would not pose for more than a few seconds before heading out to warm up.
On the ice, these armoured warriors lose all the ungainliness their heavy clobber lends them off it. They move at bewildering speeds - 35km/h is routine - in pursuit of a six-ounce hard rubber puck, a black disc three inches across and an inch thick (this game, played on a 200ft by 100ft rink, doesn't do metrics).
Ice hockey is native to Canada, though widely played in the northern US and Europe. But it has a following here, too. Of the 27 in the Swarm line-up, 17 are New Zealand-born; only two are from Canada and three from the US.
To describe ice hockey - which Canadians call hockey - as a contact sport is something of an understatement. My only experience of the game was limited to the 1977 Paul Newman slugfest Slap Shot, but rink-side, even without boosting by a movie sound editor's mix, the thuds of bodies slamming into each other are wince-inducing.
There's nothing to beat the view with your nose pressed against the 2m-high transparent wall directly behind the goal. When one of those pucks hits the perspex in front of you with a sound like a whip-crack, you flinch; when what's striking the wall is 200kg of flesh, bone and padding in the form of two men contesting possession, it's hard not to rear in fright.
The game is a stop-start affair, unfolding in furious bursts of activity interspersed with breaks when the whistle blows and the clock stops so that referees can explain calls or, as happens commonly, escort players to the "sin bin" on the far side of the court from their team bench.
The couple of hundred spectators on the banked seats are dressed for the chill that emanates off the ice: gloves, beanies (the Canadians call them tuques), warm jackets often in team colours. Among them is Elizabeth Hay, mother of the three brothers in the Swarm swarm. Six of her seven kids have played ice hockey, including 18-year-old daughter Libby-Jean, who is in the women's national team.
"I've been a hockey mum for 21 years, and I love it," she says, although she admits to finding it hard when the kids get injured. Dead leg, caused by a shot hitting the thigh, can be a concern; the haematoma can cause temporary paralysis that takes weeks to recover.
"But the ones I really worry about are the concussions," she adds, with a cheerful smile.
Mooching around near the centre line of the rink is Ed Mason, a Toronto native who has been the most loyal spectator at Auckland games since he settled here in 1980.
"I wouldn't have missed many," he tells me, breaking off to admire a good shot or deplore a lapse. "It would take a lot to keep me away."
A veteran watcher of "anything on ice and any American sport", he has provided match reports and analyses for specialist publications for 30 years or more.
"I love it," he tells me, as flailing players bounce off the wall in front of us. "I know I'm home when I hear the sound of the puck hitting the boards."
For the record, Swarm beat Thunder 8-1. Mason explained that is was because "Thunder's defence didn't do any defence". Made sense to me.