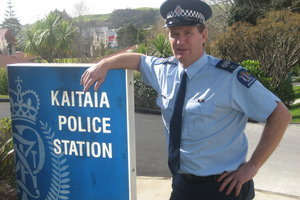 Kaitaia's senior police officer has praised the response of Te Rangi Aniwaniwa whanau after 10 female students were attacked by drunken youths in Kaitaia's main street.
Senior Sergeant Geoff Ryan said he had been to a number of meetings with groups expressing concerns on various issues, and this was by far the best response he had seen from anyone in the community.
Staff, whanau and the victims met at Te Rangi Aniwaniwa last week to discuss the incident, in which 20 young people, described by police as drunk, emerged from Jaycee Park on the evening of Friday, July 5, and abused and assaulted the students, who had just left Te Ahu Cinema. An adult bystander tried to intervene but was reportedly assaulted.
Mr Ryan rejected claims the police who responded had not treated the incident seriously. Three officers had been confronted by 40 or more people, most of them in a highly agitated state, their first priority having been to de-escalate the situation.
"The first thing they had to do was to minimise the potential for anyone coming to any further harm, and that's what they did," he said. "All sorts of conflicting stories were being told, and their job initially was to see that no one was hurt. And no one did come to further harm after the officers arrived.
"They didn't just shoo everyone away, though. Those who did not disperse were arrested - one for assault and three for inciting further disorder.
"One officer stayed on the beat until well after midnight and two more arrests were made.
"All but one of those arrested were juveniles, who will now go through the youth justice process."
The Friday night had not been the time to sit down with people and take statements or complaints, however. There was no time, or manpower, to begin that process there and then, although he would be happy to follow up with anyone who now wished to lay complaints. At least some of the Te Rangi Aniwaniwa students were planning to make formal statements last week. "I can see how some people might have gained the impression that we weren't doing anything, but our response was the correct and appropriate one at the time," he said. "And everyone
is asking the same questions, again, like where were these young people's parents, and who supplied them with alcohol?"
This was not the first such incident in Kaitaia, but one for the community to address, Mr Ryan said.
The response of the whanau at Te Rangi Aniwaniwa was a very good first step towards that.
"I applaud these parents," he said. "They are taking action on behalf of the community, and I will be offering them all the support I can to facilitate that. This is by far the best response I have seen from anyone in the community in my four years here."
The fathers' patrol set up by Te Rangi Aniwaniwa whanau in response to the July 5 incident was in Kaitaia's main street for the first time on Friday night, following a meeting with police, and found it very quiet.
Meanwhile, a public march will leave from the old Pak'nSave car park in Commerce St at 3pm on Friday, bound for Jaycee Park. Te Rangi Aniwaniwa spokeswoman La-Verne King said there would be a barbecue, while children could play in the park.
"It's just about showing that Kaitaia is for the good people too," she said.
-NAD ln
For more articles from this region, go to Northern Advocate