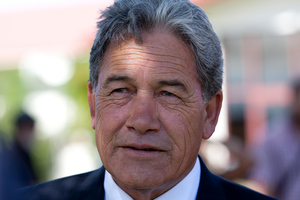 NZ First leader Winston Peters has questioned a police decision not to further pursue a complaint he laid over the leak of the Kitteridge report into the GCSB.
Mr Peters said the decision was made before all the evidence had been reviewed.
He said he told police verbally last week he would provide them with more information and wrote to them yesterday saying more information was coming.
"The police had invited us to provide any additional information which was why we wrote to them on 15 July that the information was coming.
"Given that we verbally advised the police on the 10th that we would consider their request, it is somewhat surprising that within two days, they had already made a decision which was received by my office on 16 July, in a letter dated 12 July, which begs the question, why have the police made a decision before further information was received,'' Mr Peters said.
In a statement today, Assistant Commissioner Malcolm Burgess said police had decided not to take any action over the complaint about the leaking of the report Review of Compliance at the GCSB to Fairfax journalist Andrea Vance.
Mr Peters made his complaint under the Crimes Act and the Summary Offences Act.
"After considering the information presented by the complainant police are satisfied that no offence is disclosed and that further investigation will fail to provide evidence leading to a prosecution under either piece of legislation,'' Mr Burgess said.
``Police consider this matter ended unless additional information becomes available which might warrant further assessment.''
Mr Peters said he would still continue with his complaint by providing more information to police.
Mr Peters says the timeline shows the following:
- June 11, NZ First complaint to police.
- July 10, police met NZ First at Parliament and told them more information requests were being considered.
- July 15, police were formally advised by email that more information was coming.
- July 16 NZ First received police letter dated July 12.
- APNZ