Delivery firm blames dumped contractor after Irish visitors beat postcards home by months.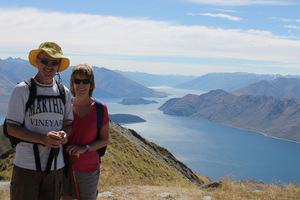 Heather Kane expected the postcards from her New Zealand trip to take a while to get back to Ireland, but almost four months was a "bit of a disaster ... I've never come across snail mail like it".
As it turns out, the process of sending a postcard is much more complex than many realise, and the fault lay with a contracting company based in Singapore.
Mrs Kane and her husband, Barry, came to New Zealand from Ireland in the middle of February for about a month to celebrate their retirement.
Because they were on holiday for longer than usual, Mrs Kane decided to send some postcards to their loved ones, telling of their travels and how much they were enjoying themselves.
"At a stamp price of $2 a card I thought I would go mad and send 15 home to family and friends."
A card to Australia arrived within two weeks and a card to their daughter in Los Angeles took more than a month.
But the cards destined for Britain, started arriving only after the couple were back home. The last one didn't arrive until June 13 - almost four months after it was sent.
"Bit of a disaster as, of course, we are long since home and have talked extensively to said family and friends ... What a total shambles of a postal system."
Mrs Kane at first thought it was New Zealand Post's fault.
But after the postal service investigated, it turned out it had nothing to do with mailing the postcards, which were never in its care.
The Irish couple had bought cards belonging to Universal Mail, a subsidiary of Freightways, which has its own delivery networks.
In February, Universal Mail was using Quantium Solutions, a subsidiary of Singapore Post, to transport the mail around the world.
Freightways' managing director, Dean Bracewell, said that during February and March a sorting error at Quantium meant postcards were not getting delivered, but Freightways was not told about it.
It was not until complaints started streaming in that Freightways realised there was a problem.
Mr Bracewell said that throughout March complaints averaged about one a day. The company has since dumped Quantium and has moved to a new contractor that Mr Bracewell did not want to identify for commercial reasons.
"Quantium has been very apologetic to us and has passed on its apologies to those affected," he said.
Mrs Keen is glad the mystery has been solved - and hopes to visit New Zealand again.
The postcards' travel time
To Australia: Within two weeks.
To USA: More than a month.
To Ireland: Up to four months.