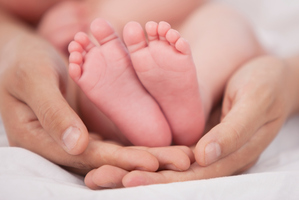 A woman refused parental payments to look after her newborn adopted son because she failed to file the correct paperwork has won her appeal for payment.
Johanna Peck and her husband were last August approved by Child Youth and Family to adopt the child a niece was carrying.
She was given approval from her employer for parental leave and Inland Revenue accepted her application for weekly entitlements.
However, the Ministry of Business, Innovation and Employment then ruled that Ms Peck was not entitled to the payments because she had not provided them with the correct documentation that showed she intended to adopt the boy.
The baby was born in October and Ms Peck and her husband assumed care of him and started adoption proceedings in the Family Court.
Ms Peck told the Employment Relations Authority (ERA) she received "vague and confusing information" from the ministry's website as to what document was required to for her and her husband to adopt the baby.
She said she did not file the correct adoption papers because she was told the baby was regarded as a relative, so documentation was unnecessary.
The Adoption Act defined relative as a grandparent, brother, sister, uncle or aunt, whether of full-blood, half-blood or affinity.
Authority member Michele Ryan said Ms Peck reasonably concluded her grand-nephew was a relative and she was not subject to the restrictions.
"However the familial relationship of grand-nephew does not fall within the category of 'relative' in the Adoption Act."
The ministry told the authority that because Ms Peck did not supply the proper adoption documentation, she was not entitled to parental payments.
Ms Ryan said it was apparent Ms Peck assumed care of the child based on an honestly held but mistaken belief that he was a family member and no other formal steps were required to take the child home.
Ms Ryan said Ms Peck did not comply with the notice requirements of the act despite acting in good faith.
"I am in no doubt that Ms Peck sought to comply with notice and documentation requirements."
Had the information on the ministry's website been clearer, Ms Peck would have obtained the necessary endorsements, Ms Ryan said.
"In this respect I regard Ms Peck's failure to comply with notice requirements was technical rather than a matter of substance and reasonable in the circumstances."
Ms Ryan ruled Ms Peck was entitled to parental leave payments as well as filing costs.
Ms Peck requested Ms Ryan make an order for the ministry to apologise, but the authority did not have the jurisdiction to do that.
- APNZ