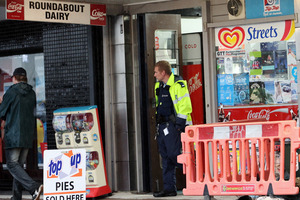 Stories making headlines around the regions today include cars getting smashed up by vandals across three Tauranga suburbs and two boys who robbed a dairy.
Cars have been smashed in a crime spree by vandals over three Tauranga suburbs.
Two teenage boys, who burgled a Havelock North dairy on Saturday afternoon, took off with the till.
A Rotorua dairy owner fears he or another dairy owner may be robbed unless petty thieves who have been targeting his shop aren't caught soon.
Up north, The Gap in Taiharuru has claimed another victim.
The wild winter weather that hit Dunedin over the weekend is set to cause havoc in the Wairarapa and Hawke's Bay but it hasn't deterred swimmers in Wanganui.
This woman suffered a brain aneurism and survived.
Little Skyla Waters is about to have open heart surgery.
The chance to take part in the New Zealand's Got Talent contest drew hundreds of people to queue in Dunedin's Octagon.
A "business misunderstanding" between musicians and the Te Manawa museum is behind a guitar exhibition being pulled a month early.
A suspicious fire at the former Kaitaia Timber Company mill has razed one building and badly damaged three others, sparking fears of chemical contamination.
Firefighters had to be decontaminated after an unused depot with an asbestos roof was gutted by a blaze.
And finally the Northland electricity rescue helicopter is packing some heat.
Other stories making headlines around the regions include:
Expert puts home security to the test.
Baby's death shocks Kamo neighbourhood.
Talented Anna's love of drama wins top honours.
School students assault staff.