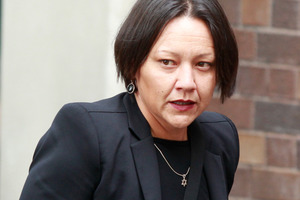 A convicted murderer and rapist will be called to court to give evidence in the defence of his lawyer tomorrow.
The unusual turn of events will see Liam Reid enter the witness box to answer questions about recorded conversations he had with his lawyer Davina Murray while inside prison.
Murray has been charged with smuggling an iPhone and cigarettes to Reid.
A second charge of passing on information which endangered the safety of a prisoner was dismissed after the Crown conceded the charge was laid outside of the six-month time limit.
Seven of the 22 phone calls between Murray and Reid were played at the Auckland District Court today but APNZ cannot report their contents until Judge Russell Collins decides whether or not they will form part of the evidence in the case.
That decision is expected tomorrow after Reid gives evidence.
Murray says the calls are privileged because she was acting as Reid's lawyer at the time.
Crown prosecutor Anna Longdill says the subject of the calls are not legal advice and therefore are not confidential.
Much of today's hearing was taken up with legal arguments about what can or cannot be used as evidence in the trial and reporting has been limited by suppression orders.
Murray is being aided in court by her former boss Barry Hart, who was struck off the Law Society's register after a 46-year career.
Hart is acting in a role known as a McKenzie friend. He is allowed to pass notes, suggest questions and provide general support to his former junior lawyer.
The defended hearing, before Judge Collins, is expected to last five days and to hear evidence from high-security prisoners, including Reid.
Reid is serving a 23-year sentence for raping and killing deaf woman Emma Agnew in Christchurch in 2007, and the rape, attempted murder and robbery of a 21-year-old student in Dunedin nine days later.
- APNZ