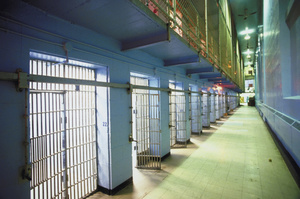 Questions have been raised about the culture of a firm in charge of running one of New Zealand's main prisons, after serious fraud allegations were made against its headquarters in the UK.
Serco Group has been accused of conning the taxpayer out of tens of millions of pounds, after it charged the government for prisoner tagging of people who are now dead or living in a different country.
Serco runs Mt Eden Prison in Auckland, and has been awarded a contract for the new Wiri Prison.
However, both the Corrections Department and its Minister said they have no concerns with the company and the operations it runs in New Zealand, saying no complaints have been raised against the group here.
"I'm assured we have robust contracts and regular audits, and no concerns have been raised with me," Corrections Minister Anne Tolley said.
But lawyer Jeremy Bioletti, who specialises in serious fraud cases, said the allegations raise questions over the "culture of the corporation" and whether that has filtered through to its New Zealand branch.
"If the allegations in the UK turn out to be correct - that there has been major, large-scale fraud by Serco - the issue is that Serco obviously have a problem with its culture, and if it's got a problem with culture then that could be transferred throughout the entity, not just the UK," he said.
"What level within Serco is this being investigated? How high up in Serco does that problem go? Is the [New Zealand] Government dealing with an entity whose management is fraudulent?"
He said the accusations, which were announced by the UK Justice Secretary Chris Grayling this week, should set off "alarm bells" for Prime Minister John Key's Government.
"Anyone normal, with half a brain, would say, 'my God, that's not good, we need to send out 'please explain' letters'."
Mr Bioletti said the Government had given "a classic bureaucratic response", and should deal with Serco with "caution".
An inquiry has been launched into Serco UK after an audit discovered G4S and Serco had overcharged taxpayers by up to 50 million pounds ($97 million), billing them for offenders who were dead, back in custody or had left the country.
G4S, the world's largest security company, which hit the headlines last year over its botched handling of the London Olympic Games, has been referred to the UK's Serious Fraud Office.
In response to questions about Serco's contract with Corrections, the department said that it was "different" to the contract held in the UK.
"Our contract with Serco is largely a fixed-fee contract, with a performance payment that is only paid if agreed performance measures are met," said Jeremy Lightfoot, general manager, finance, technology and commercial, adding that the contract was "well-monitored and carefully assessed".
"Our contracts with G4S for community detention and home detention monitoring are closely monitored with invoices validated by Corrections before being paid. Further to this, our contracts with both Serco and G4S are audited annually."
He said that public safety "is our top priority" and the department has "robust procedures in place to ensure our service providers are delivering on their contracts".
A spokesman for Serco Asia Pacific said it had offered to provide further information to all clients who requested it, but was "not aware of similar concerns in any other contracts".
"If we were, we would take the same approach as in this case: working closely with our customer to resolve them and ensuring that we make things right," he said.
The company's chief executive, Christopher Hyman, issued a statement, which said: "We are deeply concerned if we fall short of the standards expected of all of us. We are therefore taking this extremely seriously and will continue to work closely with our customer to resolve their concerns in this matter. We will not tolerate poor practice and behaviour and wherever it is found we will put it right."
- APNZ