'If we had known, my daughter could have driven me. It was only around the corner'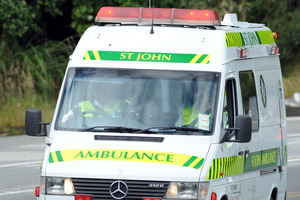 Almost $800 for an ambulance ride "around the corner" to hospital has amazed a 71-year-old woman.
Kathleen Carroll, on holiday from Ireland, came down with a chest infection while visiting her daughter in Invercargill last month. When she had difficulty breathing, her daughter called the Healthline for advice and the operator called an ambulance.
"I was treated very well by the paramedics and taken to hospital," Carroll said. "I was discharged that night after treatment and I'm fine now."
But a few days later, she received a bill in the post for $769. By comparison $769 would get you from central Auckland to Turangi by taxi, a staff member at Mt Roskill company Cheap Cabs said.
Carroll called the St John 0800 number and was told because she was not a New Zealand citizen, she would have to pay up.
"If we had known, my daughter could have driven me. It was only around the corner," she said.
"It was only when the woman realised I had a British passport that she told me Britain has a reciprocal agreement with New Zealand and I would only have to pay $84."
The ambulance service says a person is charged between $75 and $84 for being transported due to medical emergency - even if someone else calls the ambulance for them.
Visitors not eligible for New Zealand's publicly funded health services have to pay $769 - the full cost of ambulance transport.
Debts left by foreign visitors amounted to $4.5million in the Auckland district alone last year.
St John operations director Michael Brooke said every effort was made to ensure information on part charges was available in ambulances and brochures, but said it was not spelt out on St John invoices.
He suggested a confusion in names may have resulted in Ms Carroll being sent the higher invoice.

Costs
• $12: 3km travelling with a Southland taxi company
• $170: 3km travelling in a stretch limousine - bubbles included
• $769: 3km travelling in a St John ambulance