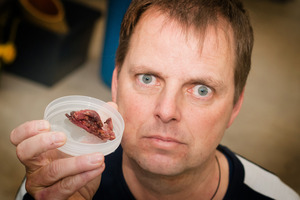 A father of three has endured an "absolute nightmare" after a surgical mesh plug inserted during a hernia operation left him in chronic pain.
Engineer Jo Spod, 47, had the mesh plug removed on June 25 after two years of complications.
"I thought the world was against me," the Whakatane man said. "At no time was I ever informed about the disadvantages of surgical mesh implants, and had no idea what the side effects could be."
A month after his hernia operation in 2011, Spod went back to his surgeon complaining of constant pain. He was given five cortisone injections over 18 months to ease the discomfort.
Through online research, Spod came across people speaking out about the side effects of surgical mesh. "I confronted the surgeon with it and he totally refused to acknowledge there could be anything wrong with the mesh."
After an operation to sever the nerve running from his brain to the hernia area, the pain persisted, so he had the plug removed.
"What they found was this mesh plug had shrivelled up and moved in a lump down towards my bladder."
Spod said he'd been told he didn't meet the requirements for compensation because all he had to show was pain. "It makes me so angry . It's the pain that makes me not go to work. These cases need to be grouped together instead of everybody fighting for illnesses on their own."
Since 2010 ACC has received 341 claims after people who had the mesh endured major complications, of which 241 were accepted.