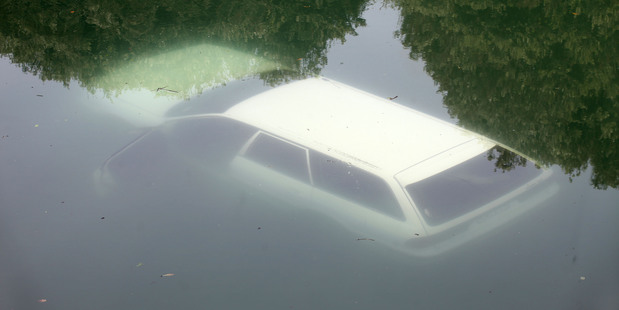 Four bystanders plunged into a freezing creek to rescue a family trapped in a submerged car.
The men punched through a window and saved a grandfather and his two-year-old grandchild but the man's wife died.
Nelson police are hailing the men as heroes. They were passing as the vehicle crashed into an estuary at the noon high tide.
Paua diver Philip Walker, 53, said several attempts were needed to free the elderly woman, who was caught in the crashed car by her seatbelt.
Bitterly cold water and panic forced him to resurface several times.
"I was panicking and holding my breath and not doing it long enough and trying to get someone out before it was too late.
"You sort of think about what I could have done but I couldn't do much else."
He freed the woman by unclicking her seatbelt and pulled her out through an open front passenger door.
Ambulance staff were unable to revive the woman. Her husband and two-year-old grandchild were last night in a critical condition and his grandfather in a stable condition in Nelson Hospital.
Nelson police say the death toll would have been higher had it not been for the four men's quick thinking and courage.
"In our view, they've saved two lives and they're heroes," said police spokeswoman Barbara Dunn.
"They thought nothing of putting their own lives at risk, and if they hadn't jumped in more lives would have been lost."
Police said the woman died at the scene. Dunn said one of the four rescuers cut his hand while punching through the rear window to pull the child from a car seat.
Nelson fire station officer Brian O'Donnell said the dead woman was under water for more than six minutes. "They were struggling with the seatbelt so we threw our knives to them so they could cut her free."
Firefighters helped the rescuers lift her body up a steep bank to waiting ambulance officers.
O'Donnell said some of the rescuers were on the verge of hypothermia after being in the cold water for nearly 10 minutes.
A local diver checked no one else was trapped in the car or had been thrown from the vehicle.
A police spokesman said the car was seen being driven from Wildman Ave, near Port Nelson, on to QEII Drive before crashing into Saltwater Creek.