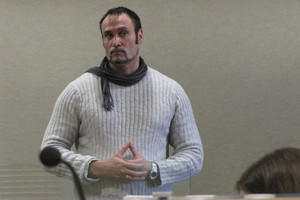 Queenstown bouncer Jonathan Dixon says his acquittal on two assault charges vindicates him and clears his "tarnished" name.
"For 18 months I have had the stigma of [being] New Zealand's big bad wolf, been under curfew at nights for nine months, lost 19 of the 20 companies I worked for as a website developer, all because one police officer jumped the gun. This is vindication," he said at the Invercargill District Court yesterday, moments after a jury had acquitted him.
Dixon ,42, was charged with two offences after an incident in the Subculture bar, Queenstown, on January 21 last year - grievous bodily harm with reckless disregard for the safety of others, and assaulting Thomas Ian Beatson.
The more serious charge related to Queenstown bar manager Jordan Kees Sinke, who fractured his skull and sustained brain injuries after falling backwards on to the concrete floor of the nightclub about 2.30am.
Dixon, who was at Subculture as a private citizen, not as a bouncer, denied the charges and a trial began in the Invercargill District Court on Wednesday before Judge Kevin Phillips and a jury of eight women and four men.
On the first day of the trial, Dixon fired his lawyer and represented himself. Mary-Jane Thomas appeared for the Crown.
The Crown called seven witnesses while Dixon was the only witness for the defence.
In her closing arguments yesterday, Ms Thomas said the Crown could not tell the jury how Mr Sinke came to fall on the floor, but the circumstances around it "pointed to Mr Dixon causing the fall".
Mr Sinke could not remember what happened that night, and other witnesses saw Mr Sinke lying on the floor and Dixon standing beside him or over him, she said.
In his evidence, Dixon told how an intoxicated Mr Sinke verbally abused him, threw a punch which landed on his chest and tried to knee him in the groin. He said he restrained him by holding his arms at his side and standing on his foot, but let him go and had turned away before Mr Sinke fell to the floor.
He said he shoved Mr Beatson away with a palm to his jaw because he was concerned Mr Beatson was trying to lift the unconscious Mr Sinke off the floor and Dixon, who was familiar with first aid, knew Mr Sinke should remain on the floor until medical help arrived.
In his closing address, Dixon said there was "no actual proof" he did anything to Mr Sinke.
"There have been a multitude of witnesses. No one saw me do anything untoward to Mr Sinke beforehand or afterwards. They only saw me assisting Mr Sinke, not hurting him."
After the verdict Dixon said the charges had tarnished his name and the reputation of all bouncers.
"Every time a bouncer is arrested on a charge, our reputation is tarnished. Every time there is a not guilty verdict it's one back for us."
Dixon is still awaiting sentencing on an unrelated matter.
In April he was found guilty by an Invercargill jury of accessing a computer system and dishonestly and without claim of right, obtaining property.
That charge arose because he took CCTV footage of England rugby player Mike Tindall, husband of the Queen's granddaughter Zara Phillips, with an old girlfriend in Queenstown's Base Bar during the Rugby World Cup in September 2011, and posted it on the internet.
Dixon was a bouncer at the bar at the time.
He was to be sentenced on that charge in June but sentencing was delayed pending the outcome of the second trial.
- Otago Daily Times