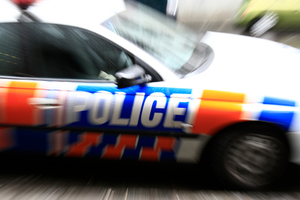 A police car was rammed by a stolen a vehicle during a high-speed pursuit in Coromandel this morning.
Police are still seeking the occupants of a stolen silver Subaru Legacy station wagon after it rammed the patrol car near Turua, south of Thames, about 7.50am.
The pursuit was later abandoned due to the danger to public safety.
Police said officers had been on alert to look out for the stolen car after it was involved in a theft at Tairua, on the east coast of the Coromandel peninsula.
It was seen by a police patrol car at Kopu, near Thames, but when police tried to stop the car it drove off at speeds of up to 140km/h.
The stolen car then stopped near Turua and "reversed violently" into the side of the police car, damaging both vehicles. It then drove off at high speed.
Police attempted to stop the car using road spikes, but the fleeing vehicle avoided the spikes, driving at high speed into the path of oncoming traffic.
The police pursuit was abandoned due the danger that the fleeing vehicle posed to public safety.
Police said they were still seeking the stolen Subaru and its occupants, described as two Maori men.
APNZ mb
- APNZ